Why This Frank Lloyd Wright Home for Sale Might Scare You If You're Square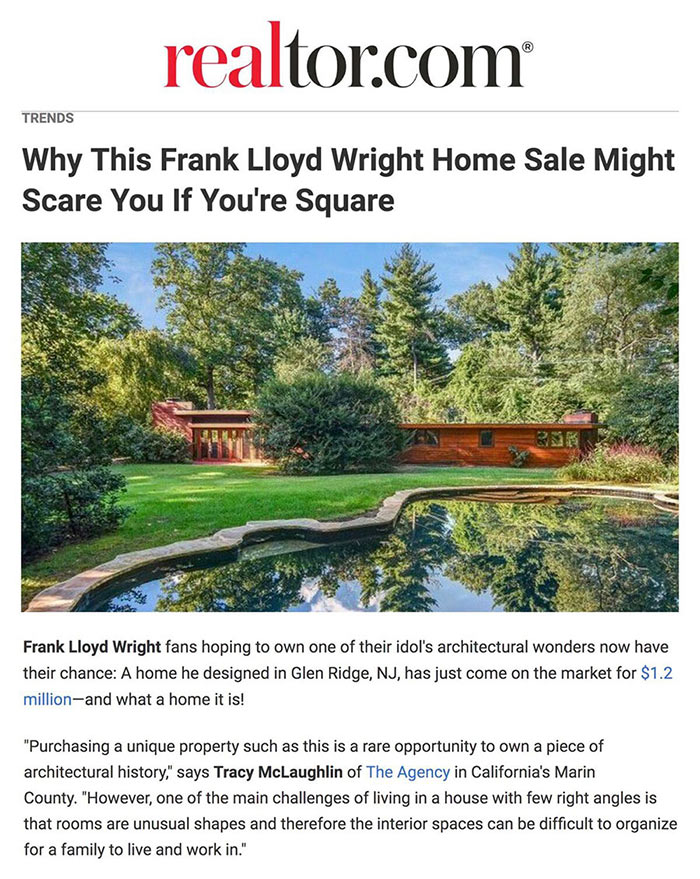 Frank Lloyd Wright fans hoping to own one of their idol's architectural wonders now have their chance: A home he designed in Glen Ridge, NJ, has just come on the market for $1.2 million—and what a home it is!
Built in 1951, this three-bedroom, two-bathroom, 1,800-square-foot house features a hexagonal floor plan where the angle of nearly every corner is either 60 or 120 degrees. There's nary a conventional right angle in sight! The living room, perhaps its most stunning room, is a triangle.
Called the Stuart Richardson house after the actuary who commissioned it, this house is designed in Wright's Usonian style, which is meant to reflect the surrounding landscape. While the home is unique, wouldn't all of those crazy angles present some challenges in terms of flow, and even fitting in furniture?
"Purchasing a unique property such as this is a rare opportunity to own a piece of architectural history," says Tracy McLaughlin of The Agency in California's Marin County. "However, one of the main challenges of living in a house with few right angles is that rooms are unusual shapes and therefore the interior spaces can be difficult to organize for a family to live and work in."
"Furniture layout could be challenging," agrees Ellie Mroz, interior designer at Ellie Mroz Design. "Most of your furniture and cabinetry will have to be fully custom to fit your unique corner angles."
One of the hardest rooms to navigate, according to one agent, would be the bedroom, a relatively small room with a massive mattress that would need to be maneuvered around with care.
"Furnishing a bedroom without those precious right angles will make a space feel cramped and awkward to navigate unless the dimensions of the room are larger than one would find in a traditional right-angled home design," warns Christopher Totaro of Warburg Realty.
Yet certain areas might actually benefit from a hexagonal floor plan.
"One area where a lack of right angles can be an enhancement is in the kitchen," Totaro continues. "The fundamental design component to a kitchen is called the kitchen work triangle, so by minimizing or eliminating the right angles, a more efficient workspace is created."
Robin Kencel of Compass Real Estate notes that this is a situation where investing in an interior designer is well worth it to help buyers understand how the rooms may be furnished.
"Some furniture pieces, such as curved or back-to-back sofas, custom-built as a single piece, are quite effective and inviting in these types of rooms," says Kencel.
Spatial challenges aside, people acquire these kinds of homes for the historical and architectural significance more than the practicality, notes Cara Ameer, a real estate agent with Coldwell Banker Vanguard Realty in Florida, who refers to it as an "emotional purchase."
"Buying a home by a famed architect is like acquiring a piece of art, and Frank Lloyd Wright is no exception," Ameer says. "As such, there are definitely trade-offs with practicality when it comes to owning a piece of art that happens to be a home. The fact that the home does not have many right angles is just something that a buyer will have to not only accept, but will need to embrace when buying this home."
Tags: Bay Area Real Estate