What It's Like to be a Realtor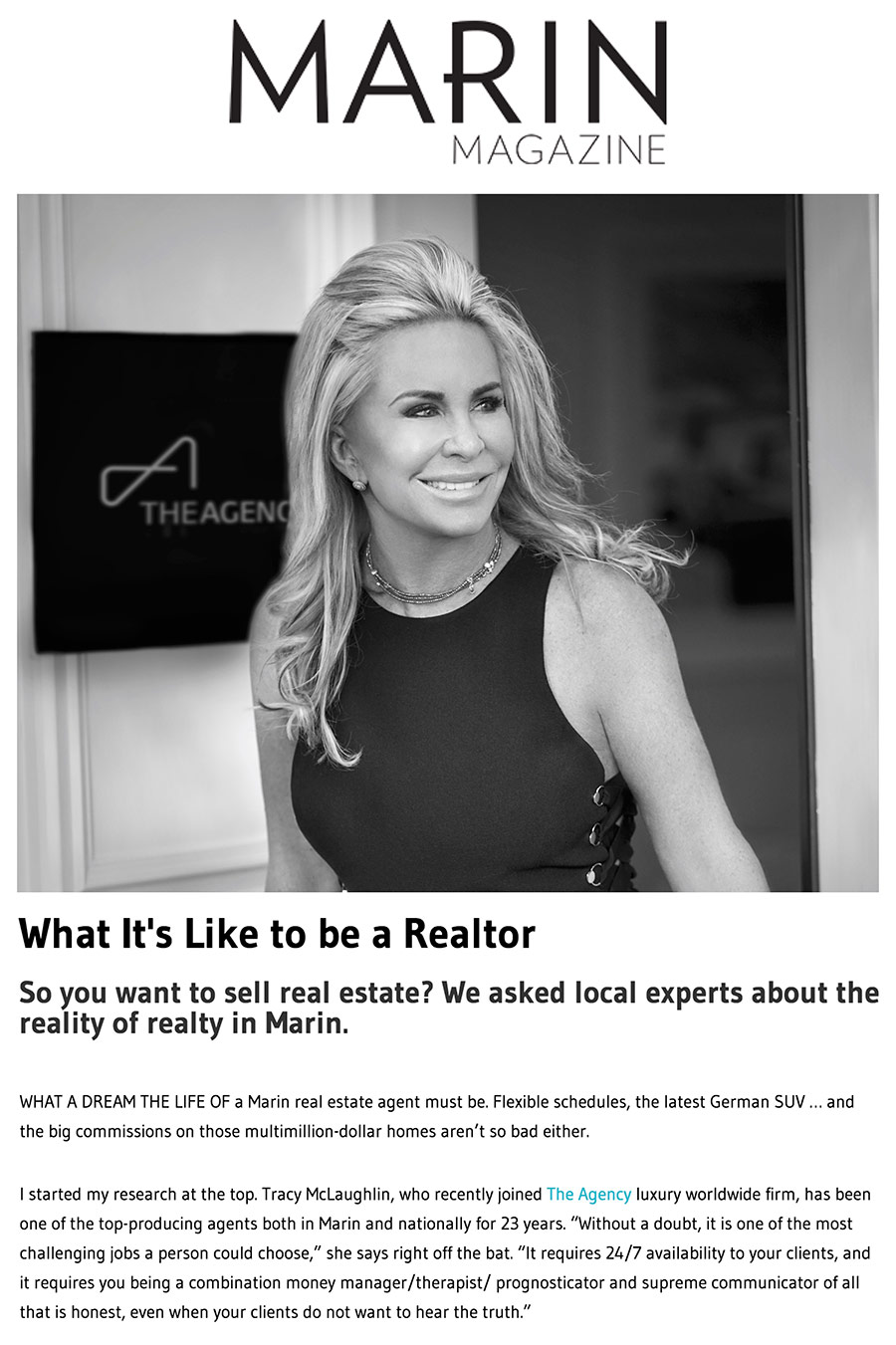 So you want to sell real estate? We asked local experts about the reality of realty in Marin.
WHAT A DREAM THE LIFE OF a Marin real estate agent must be. Flexible schedules, the latest German SUV … and the big commissions on those multimillion-dollar homes aren't so bad either.
Once, I was lured by this vision of easy money. I had been a commercial real estate agent and had an interior design background. My kids were young and still needed me nights and weekends, but I thought I could work part time and have the best of both worlds. Within a couple of years, I realized this was not a part-time job. I was working on weekends and at night, and it required full-time effort if I wanted to succeed.
Now that my kids are older, I decided to talk to a few local agents to see if 10 years later, it might be a better fit.
I started my research at the top. Tracy McLaughlin, who recently joined The Agency luxury worldwide firm, has been one of the top-producing agents both in Marin and nationally for 23 years. "Without a doubt, it is one of the most challenging jobs a person could choose," she says right off the bat. "It requires 24/7 availability to your clients, and it requires you being a combination money manager/therapist/ prognosticator and supreme communicator of all that is honest, even when your clients do not want to hear the truth."
In fact, assuming it will be easy is rookies' first mistake, says Jenn Pfeiffer, a longtime Marin agent and sales manager at Zephyr Real Estate in Greenbrae. "There's an upfront cost when you become an agent," she points out. "You have to join national, state and local associations, you have to buy your signage and business cards, and there are marketing costs. Some brokerages charge for training. All of that adds up. Plus, you don't earn a salary. Some people I interview (for the firm) assume they will be an employee of the brokerage and all of that is provided to them. It's not."
Then there's learning about contracts and legal requirements, staying up to speed through continuing education — and the endless need to market oneself. It takes a certain skill to find a way to stand out in a crowded field of outgoing, enthusiastic people who are competing for the same listings and buyers. Knowing the inventory and the story behind each sale can give you an edge, Pfeiffer notes, but a good agent essentially must be an incredible font of knowledge, about everything from the newest laws and ordinances to permit requirements.
Someone starting out in the business today also needs to bring something extra to the equation, since there are so many realtors already established in Marin. "Become an expert in your community or the community where you wish to work," suggests agent Bitsa Freeman of Vanguard Realty. "Know the neighborhood, what the profiles are of the buyers in your area. Understand the zoning, building and county and or city rules. Serve your local community by volunteering. Be actively engaged," and "get out there and meet people."
Chelsea Ialeggio, Vanguard's sales manager, guesses the number of agents who make it after two years may be under 20 percent. That means contenders should have enough savings in the bank to live on as they establish themselves. They must have a well-defined business plan and be ready to work seven days a week, she adds, and they must not assume family and friends will be their clients. "I look at what kind of experience they have had in their previous careers and in life," she says about hiring new agents. "I like to see how they interact with others, their ability to listen, and their expectations about what they are getting into. I pay a lot of attention to nonverbal cues."
In fact, around 70 percent of new agents eventually give up on the business, says Mark McLaughlin, CEO of Pacific Union, and he estimates it takes three years of intense commitment and hard work to begin to financially succeed. Right now only a small percentage of agents are doing the lion's share of business in Marin, he adds; as housing markets tighten and become more volatile, clients are migrating toward proven experience and skill, making it even harder for newcomers to break in. (His own firm recently merged with Compass Realty, which also purchased Paragon late last year and Alain Pinel this year.)
McLaughlin says he looks for three core personality traits in every new hire his firm takes on: first, he wants to see a "competitive stripe in their DNA." Second, he wants to see great instincts on forthcoming trends. And third, the confidence to marshal those assets and put them to work. "How many times have you heard someone say, 'I had that idea three years ago,' but they did not act?"
Redfin's Benjamin Faber, a young agent with listings throughout Marin, exemplifies one innovative business model for the field. He started in real estate at 24, a few years after graduating from UC Santa Barbara, but wishes he'd gotten his license even sooner — to him, it's a great business opportunity to consider while attending college.
Unlike most traditional agencies, Redfin is highly technology-powered and markets itself as such; also, its agents are salaried employees, with benefits like health care, paid time off and parental leave. They receive bonuses based on the home's sale or purchase price and customer satisfaction performance surveys. (A company blog says agents who worked at least nine months in 2017 earned about $90,000.) The upshot: the fees clients pay are typically lower than a traditional agent's commissions. And because Redfin agents work as part of a support team that fields customer inquiries, manages details and paperwork and streamlines the process with technological tools, transactions are economical and efficient.
Basic administrative support varies among traditional real estate firms, but more often than not it's up to agents to create and fund their own teams, often costing an agent a percentage of his commission. Commission "splits" between agent and broker also vary, but they average around 70/30 or 80/20, based on an average commission rate of 5 to 6 percent of the sale price of a home. Agents with greater seniority or productivity may get a bigger share.
Joining one of these support teams before jumping in as an agent is one way to gain experience and learn from the ground up. And every agent interviewed says it's vital to surround yourself with top-quality mentors. Still, "no matter how many mentors or support team members you have, success is about very hard work, long hours, diligence at your craft and really caring about your clients," Tracy McLaughlin says. In residential real estate, "trust, transparency and caring more about the client than a sale is imperative for a long-standing, successful career."
Tags: About Tracy McLaughlin