Tracy McLaughlin leaves Compass to lead new Agency office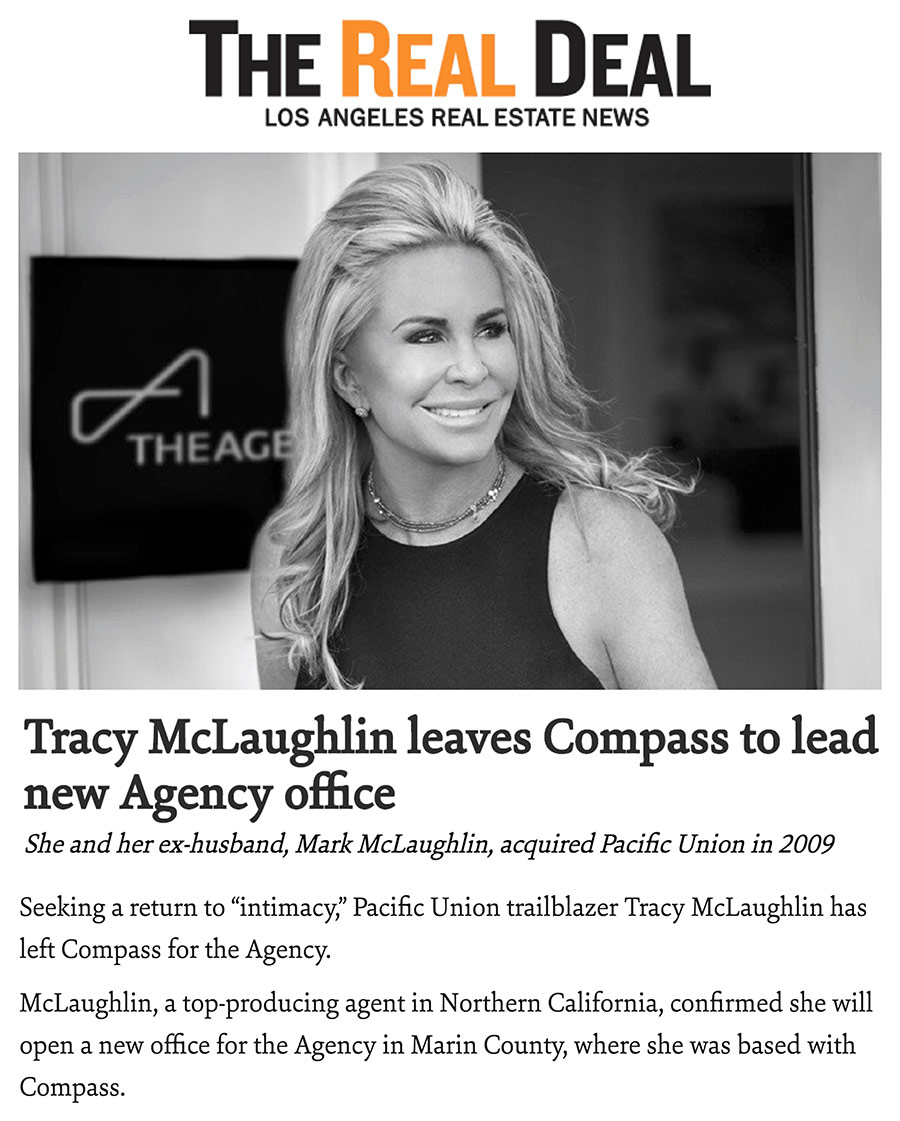 She and her ex-husband, Mark McLaughlin, acquired Pacific Union in 2009
Seeking a return to "intimacy," Pacific Union trailblazer Tracy McLaughlin has left Compass for the Agency.
McLaughlin, a top-producing agent in Northern California, confirmed she will open a new office for the Agency in Marin County, where she was based with Compass.
The move comes four months after Compass, the fast-growing New York-based firm, acquired Pacific Union. McLaughlin bought Pacific Union alongside her ex-husband and CEO Mark McLaughlin in 2009.
"Compass is enormous," she said. "I helped grow Pacific Union with Mark and I liked that it felt like a family. I like the intimacy of knowing people."
Compass added 1,700 agents when it merged with Pacific Union. The Agency remains far smaller with about 500 agents.
"There is nothing wrong with Compass or Robert (Reffkin)," she said. But the Agency felt like "a really good fit."
Inman first reported the news.
"There are rare times when an agent leaves where it is mutually agreeable, this is one of them," said Peter Jonas, West region president for Compass. "Tracy has a great business and we wish her the best."
McLaughlin has held a powerful presence in Marin County for several years, and ranked No. 51 on the Real Trends Thousands ranking in 2018. Some of her bigger sales include a $13 million sale in Belvedere, as well as an $11 million home in Ross in Northern California. In 2017, she pulled in more than $155 million in transaction volume.
She will remain in the same office at 285 Magnolia Avenue in Larkspur, which is the Agency's first office in Marin County and 27th overall. She said she plans on bringing new agents to join her after March 30, once her non-compete contract expires.
Since Compass acquired Pacific Union in late September, there have been a number of departures from the massive firm. Michael Nourmand at Nourmand & Associates said he had at least two people join his team from Compass, as of October. That same month, the Westside Estate Agency recruited three agents from Compass, co-founder Stephen Shapiro previously told The Real Deal.
There have also been a few exits from the Agency. In December, three agents at the firm jumped ship to join Hilton & Hyland and Compass. The move came four months after allegations of real estate impropriety hit one of the Agency's co-founders, Mauricio Umansky.
Tags: About Tracy McLaughlin