Tracy McLaughlin leaves Compass for The Agency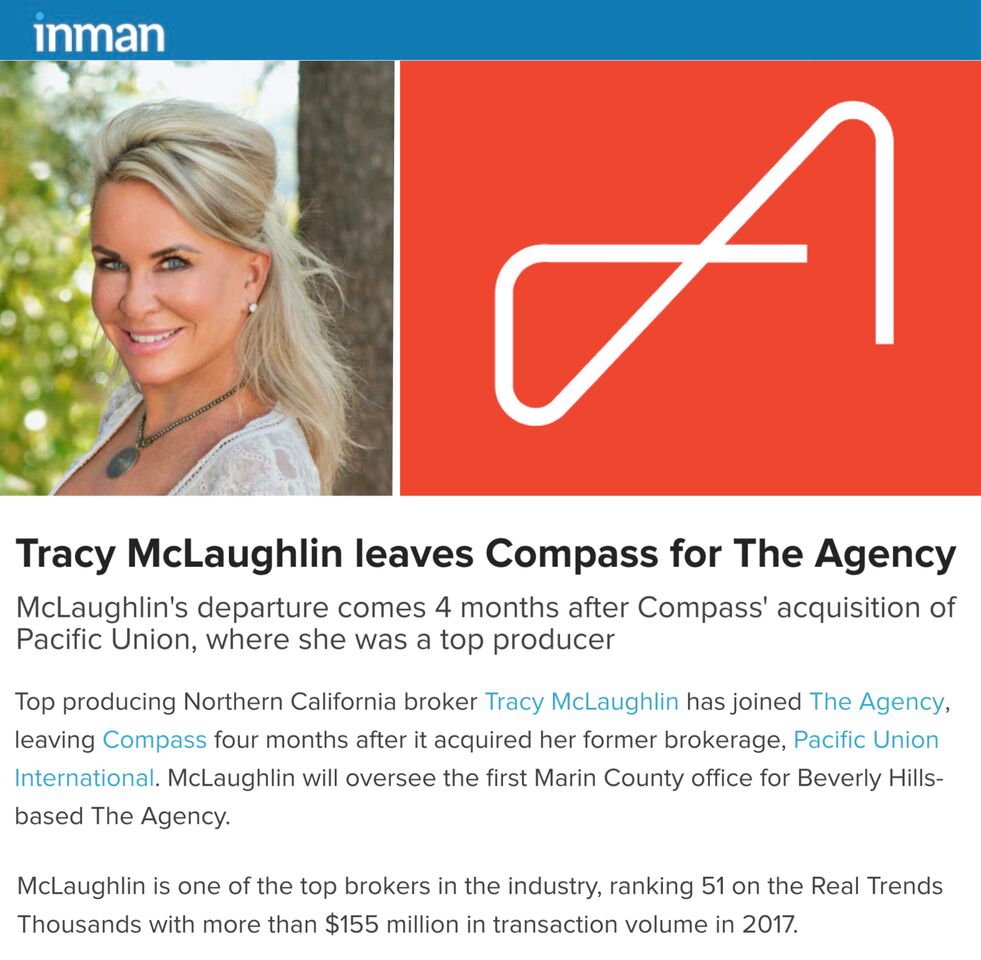 McLaughlin's departure comes 4 months after Compass' acquisition of Pacific Union, where she was a top producer
Top producing Northern California broker Tracy McLaughlin has joined The Agency, leaving Compass four months after it acquired her former brokerage, Pacific Union International. McLaughlin will oversee the first Marin County office for Beverly Hills-based The Agency.
"The Agency is a company that I have long admired for its collaborative spirit and marketing prowess," McLaughlin said in a statement. "Mauricio Umanskyand Billy Rose created a firm that is one of the most innovative in the real estate industry, and I am honored to be leading operations in Marin County. The Agency's presence will bring a breath of fresh air to Marin, and I am looking forward to representing the brand as we further expand in Northern California."
She tweeted about her move on her official Twitter account, saying she was "thrilled to announce that I have been recruited by The Agency."
McLaughlin is one of the top brokers in the industry, ranking 51 on the Real Trends Thousands with more than $155 million in transaction volume in 2017.
She formed a joint venture with brokerage Morgan Lane in 2006 with her husband Mark McLaughlin, before they purchased Pacific Union in 2009 (and Mark later served as Pacific Union CEO).
Compass acquired Pacific Union in late September by paying Fidelity National Financial, which owned a 62 percent take in the company, $43 million in cash and an additional $27 million from an earn-out if the company meets undisclosed metrics. McLaughlin however, sold her stake in the company in December 2014.
McLaughlin is credited with being an integral part of Pacific Union's growth throughout Northern California.
McLaughlin is coming on board at a time of major growth for The Agency. The Marin office will be the brokerage's third in Northern California, joining locations in Noe Valley and Danville. The Agency now has more than 500 brokers in offices throughout the U.S., Mexico, Canada and the Caribbean.
"2019 will be a year of growth for The Agency, and we are delighted to not only welcome one of the most revered agents in Northern California to our firm, but to have her lead our Marin office," Umansky, the CEO and founder of The Agency said. "Establishing an office in Marin County has always been a part of our strategic growth plan, and we look forward to announcing new offices shortly."
The new office will be located at 285 Magnolia Avenue in Larkspur, California.
McLaughlin was onboarded to Compass after its Pacific Union acquisition according to a Compass source, but departed shortly after. The departure was mutual, Peter Jonas, Compass' west region president told Inman.
"There are rare times when an agent leaves where it is mutually agreeable, this is one of them," Jonas said. "McLaughlin has a great business and we wish her the best."
Editor's Note: This story has been corrected to note that the McLaughlins formed a joint venture with Morgan Lane in 2006.
Tags: About Tracy McLaughlin