The Price Is Right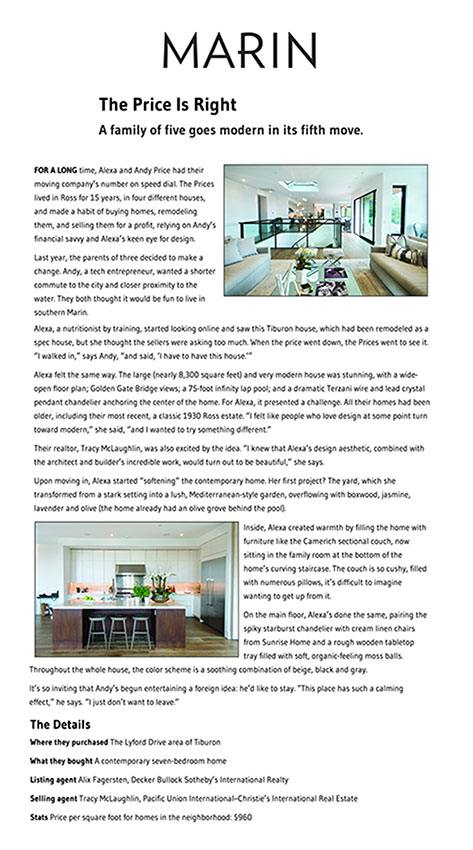 FOR A LONG time, Alexa and Andy Price had their moving company's number on speed dial. The Prices lived in Ross for 15 years, in four different houses, and made a habit of buying homes, remodeling them, and selling them for a profit, relying on Andy's financial savvy and Alexa's keen eye for design.
Last year, the parents of three decided to make a change. Andy, a tech entrepreneur, wanted a shorter commute to the city and closer proximity to the water. They both thought it would be fun to live in southern Marin.
Alexa, a nutritionist by training, started looking online and saw this Tiburon house, which had been remodeled as a spec house, but she thought the sellers were asking too much. When the price went down, the Prices went to see it. "I walked in," says Andy, "and said, 'I have to have this house.'"
Alexa felt the same way. The large (nearly 8,300 square feet) and very modern house was stunning, with a wide-open floor plan; Golden Gate Bridge views; a 75-foot infinity lap pool; and a dramatic Terzani wire and lead crystal pendant chandelier anchoring the center of the home. For Alexa, it presented a challenge. All their homes had been older, including their most recent, a classic 1930 Ross estate. "I felt like people who love design at some point turn toward modern," she said, "and I wanted to try something different."
Their realtor, Tracy McLaughlin, was also excited by the idea. "I knew that Alexa's design aesthetic, combined with the architect and builder's incredible work, would turn out to be beautiful," she says.
Upon moving in, Alexa started "softening" the contemporary home. Her first project? The yard, which she transformed from a stark setting into a lush, Mediterranean-style garden, overflowing with boxwood, jasmine, lavender and olive (the home already had an olive grove behind the pool).
Inside, Alexa created warmth by filling the home with furniture like the Camerich sectional couch, now sitting in the family room at the bottom of the home's curving staircase. The couch is so cushy, filled with numerous pillows, it's difficult to imagine wanting to get up from it.
On the main floor, Alexa's done the same, pairing the spiky starburst chandelier with cream linen chairs from Sunrise Home and a rough wooden tabletop tray filled with soft, organic-feeling moss balls. Throughout the whole house, the color scheme is a soothing combination of beige, black and gray.
It's so inviting that Andy's begun entertaining a foreign idea: he'd like to stay. "This place has such a calming effect," he says. "I just don't want to leave."
The Details
Where they purchased The Lyford Drive area of Tiburon
What they bought A contemporary seven-bedroom home
Listing agent Alix Fagersten, Decker Bullock Sotheby's International Realty
Selling agent Tracy McLaughlin, Pacific Union International–Christie's International Real Estate
Stats Price per square foot for homes in the neighborhood: $960
BY LAURA HILGERS
Tags: Bay Area Real Estate