The More Family Members the Merrier, Many Luxury Buyers Say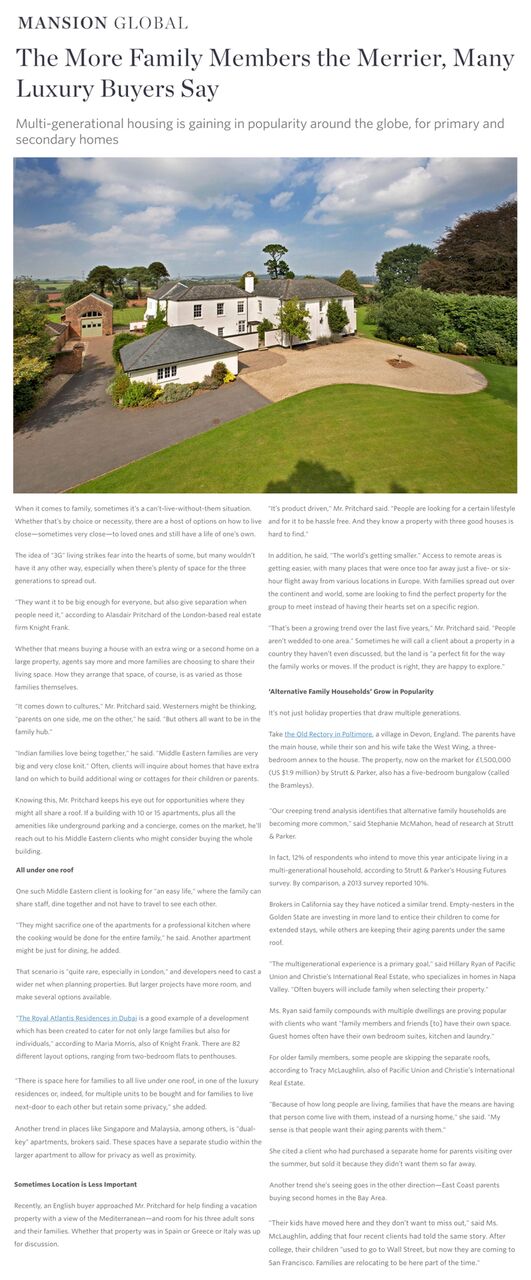 When it comes to family, sometimes it's a can't-live-without-them situation. Whether that's by choice or necessity, there are a host of options on how to live close—sometimes very close—to loved ones and still have a life of one's own.
The idea of "3G" living strikes fear into the hearts of some, but many wouldn't have it any other way, especially when there's plenty of space for the three generations to spread out.
"They want it to be big enough for everyone, but also give separation when people need it," according to Alasdair Pritchard of the London-based real estate firm Knight Frank.
Whether that means buying a house with an extra wing or a second home on a large property, agents say more and more families are choosing to share their living space. How they arrange that space, of course, is as varied as those families themselves.
More: Green Building in U.S. Luxury Developments Continues to Flourish
"It comes down to cultures," Mr. Pritchard said. Westerners might be thinking, "parents on one side, me on the other," he said. "But others all want to be in the family hub."
"Indian families love being together," he said. "Middle Eastern families are very big and very close knit." Often, clients will inquire about homes that have extra land on which to build additional wing or cottages for their children or parents.
Knowing this, Mr. Pritchard keeps his eye out for opportunities where they might all share a roof. If a building with 10 or 15 apartments, plus all the amenities like underground parking and a concierge, comes on the market, he'll reach out to his Middle Eastern clients who might consider buying the whole building.
More: To Make a Big Sale, Staging and Photography Have To Be Just Right
All under one roof
One such Middle Eastern client is looking for "an easy life," where the family can share staff, dine together and not have to travel to see each other.
"They might sacrifice one of the apartments for a professional kitchen where the cooking would be done for the entire family," he said. Another apartment might be just for dining, he added.
That scenario is "quite rare, especially in London," and developers need to cast a wider net when planning properties. But larger projects have more room, and make several options available.
"The Royal Atlantis Residences in Dubai is a good example of a development which has been created to cater for not only large families but also for individuals," according to Maria Morris, also of Knight Frank. There are 82 different layout options, ranging from two-bedroom flats to penthouses.
"There is space here for families to all live under one roof, in one of the luxury residences or, indeed, for multiple units to be bought and for families to live next-door to each other but retain some privacy," she added.
Another trend in places like Singapore and Malaysia, among others, is "dual-key" apartments, brokers said. These spaces have a separate studio within the larger apartment to allow for privacy as well as proximity.
More: Tropical Modern: A Seductive Spin on Island-Style Homes
Sometimes Location is Less Important
Recently, an English buyer approached Mr. Pritchard for help finding a vacation property with a view of the Mediterranean—and room for his three adult sons and their families. Whether that property was in Spain or Greece or Italy was up for discussion.
"It's product driven," Mr. Pritchard said. "People are looking for a certain lifestyle and for it to be hassle free. And they know a property with three good houses is hard to find."
In addition, he said, "The world's getting smaller." Access to remote areas is getting easier, with many places that were once too far away just a five- or six-hour flight away from various locations in Europe. With families spread out over the continent and world, some are looking to find the perfect property for the group to meet instead of having their hearts set on a specific region.
"That's been a growing trend over the last five years," Mr. Pritchard said. "People aren't wedded to one area." Sometimes he will call a client about a property in a country they haven't even discussed, but the land is "a perfect fit for the way the family works or moves. If the product is right, they are happy to explore."
More: Apartment 'Getaways' with Greenery and Great Views
'Alternative Family Households' Grow in Popularity
It's not just holiday properties that draw multiple generations.
Take the Old Rectory in Poltimore, a village in Devon, England. The parents have the main house, while their son and his wife take the West Wing, a three-bedroom annex to the house. The property, now on the market for £1,500,000 (US $1.9 million) by Strutt & Parker, also has a five-bedroom bungalow (called the Bramleys).
"Our creeping trend analysis identifies that alternative family households are becoming more common," said Stephanie McMahon, head of research at Strutt & Parker.
In fact, 12% of respondents who intend to move this year anticipate living in a multi-generational household, according to Strutt & Parker's Housing Futures survey. By comparison, a 2013 survey reported 10%.
Brokers in California say they have noticed a similar trend. Empty-nesters in the Golden State are investing in more land to entice their children to come for extended stays, while others are keeping their aging parents under the same roof.
"The multigenerational experience is a primary goal," said Hillary Ryan of Pacific Union and Christie's International Real Estate, who specializes in homes in Napa Valley. "Often buyers will include family when selecting their property."
Ms. Ryan said family compounds with multiple dwellings are proving popular with clients who want "family members and friends [to] have their own space. Guest homes often have their own bedroom suites, kitchen and laundry."
For older family members, some people are skipping the separate roofs, according to Tracy McLaughlin, also of Pacific Union and Christie's International Real Estate.
"Because of how long people are living, families that have the means are having that person come live with them, instead of a nursing home," she said. "My sense is that people want their aging parents with them."
She cited a client who had purchased a separate home for parents visiting over the summer, but sold it because they didn't want them so far away.
Another trend she's seeing goes in the other direction—East Coast parents buying second homes in the Bay Area.
"Their kids have moved here and they don't want to miss out," said Ms. McLaughlin, adding that four recent clients had told the same story. After college, their children "used to go to Wall Street, but now they are coming to San Francisco. Families are relocating to be here part of the time."
Tags: Economy