The Agency Congratulates Our Agents Topping RealTrends The Thousand 2021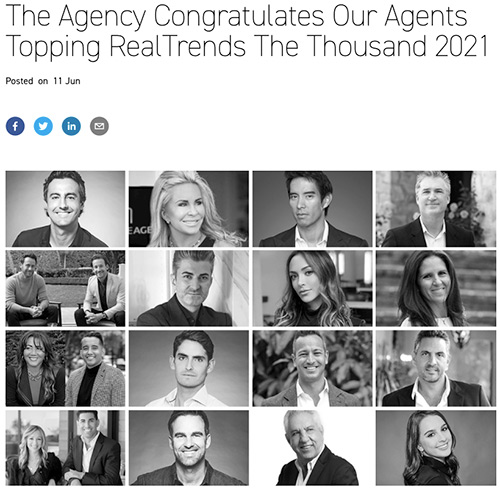 Real estate's most anticipated and prestigious, annual nationwide ranking of agents is in. RealTrends' The Thousand 2021 has named eight of The Agency's individual agents and three agent teams among the country's highest producers.
"We're excited to celebrate our agents who have been named among the top producers in the country by RealTrends + Tom Ferry The Thousand 2021," said Rainy Hake Austin, President of The Agency. "After such an unprecedented year, we're thrilled to honor the tremendous achievements and success of our agents."
Now in its 16th year, RealTrends The Thousand is widely considered the most prestigious ranking in real estate. In partnership with The Wall Street Journal, The Thousand recognizes the top .07% of more than 1.4 million real estate professionals in the nation. The ranking features only 250 individuals ranked by sides and sales volume and the top 63 teams across four categories by size of the team.
The Agency agents who ranked in The Thousand include:
2021 Top 250 Individuals by Sales Volume
#16 | Santiago Arana | $332,629,120 in sales volume
#20 | Sandro Dazzan | $309,956,909 in sales volume
#35 | Tracy McLaughlin | $252,755,000 in sales volume
#96 | Blair Chang | $141,870,500 in sales volume
#120 | Craig Knizek | $128,126,250 in sales volume
#202 | Emil Hartoonian | $100,372,476 in sales volume
#214 | Eric Haskell | $96,738,000 in sales volume
#232 | Cooper Mount | $91,752,675 in sales volume
2021 Small Teams By Sales Volume (2-5 licensed members)
#12 | The Umansky Team | $322,463,000 in sales volume
Mauricio Umansky, Farrah Brittany, Eduardo Umansky, Sharon Umansky Benton, Alexia Umansky
#16 | Bond Street Partners | $290,231,500 in sales volume
2021 Large Team By Sales Volume (11-20 licensed members)
#24 | Nurit Coombe and Alex Martinez Team | $254,483,216 in sales volume
#33 | The Jon Grauman Team | $211,387,712 in sales volume
2021 Large Team By Transaction Sides (11-20 licensed members)
#14 | Nurit Coombe and Alex Martinez Team | 537 Transaction Sides