Sound Off: What do Millennials look for in a home?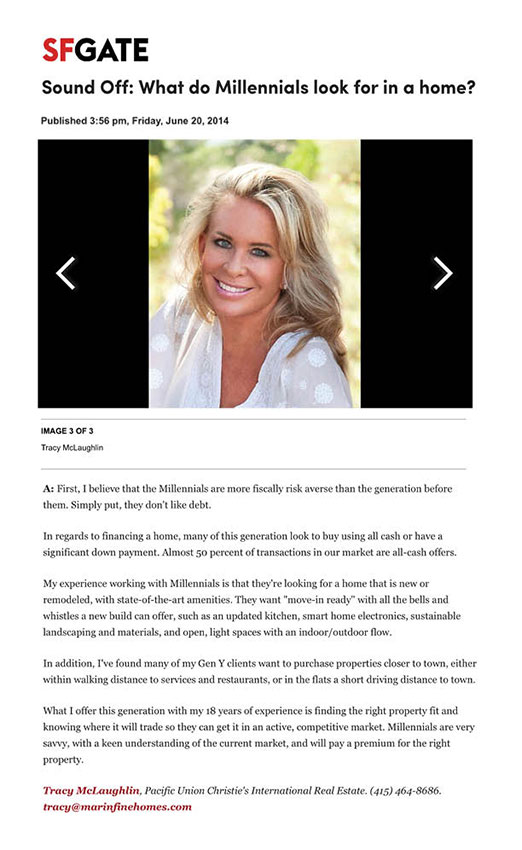 A: Millennials (20- and 30-year-olds) are the next generation of consumers, and their values and behaviors differ from their parents. Their careers and being close to friends and a lot of experiences often win over a big home with lots of space.
Functionality and lifestyle are more important to Gen Y than the size (of the home) and the actual property.
Young folks are more likely to pick a house with curb appeal than a sunny backyard. They want a home with character that looks good. I worked with a couple looking to buy their first home. They didn't care about the weather, they wanted to be close to the city and have a "topnotch" kitchen "to entertain their friends in."
Their communication style differs as well. Millennials are part of a generation that expects to communicate with real estate agents by text message. They will use a cell phone app to calculate mortgage payments. They see new listings on their phones the second they hit the market.
We, Realtors, have to up our game.
This generation of home buyers is also more educated and risk averse. They've experienced the down market and will be cautious in the future. They are watching their credit and are saving.
Julia Bernardini, Bradley Real Estate.
A: First, I believe that the Millennials are more fiscally risk averse than the generation before them. Simply put, they don't like debt.
In regards to financing a home, many of this generation look to buy using all cash or have a significant down payment. Almost 50 percent of transactions in our market are all-cash offers.
My experience working with Millennials is that they're looking for a home that is new or remodeled, with state-of-the-art amenities. They want "move-in ready" with all the bells and whistles a new build can offer, such as an updated kitchen, smart home electronics, sustainable landscaping and materials, and open, light spaces with an indoor/outdoor flow.
In addition, I've found many of my Gen Y clients want to purchase properties closer to town, either within walking distance to services and restaurants, or in the flats a short driving distance to town.
What I offer this generation with my 18 years of experience is finding the right property fit and knowing where it will trade so they can get it in an active, competitive market. Millennials are very savvy, with a keen understanding of the current market, and will pay a premium for the right property.
Tracy McLaughlin, Pacific Union Christie's International Real Estate. (415) 464-8686. Tracy@TracyMcLaughlin.com.
A: When Baby Boomers like my parents looked for a home, many dreamed of a white picket fence and a safe community to raise a family. But the newest generation of home buyers, Millennials, has drastically different home-buying needs and wants.
Move-in ready: Millennial buyers look for homes with little or no work needed. Many of them don't have the time to tackle a fixer. They prefer to let someone else rehab a home and pay extra for the convenience of just having to decorate their new digs.
Low maintenance: Young buyers often don't see a large yard as a plus. They see it as a never-ending fight with Mother Nature for green grass. For Millennials, an HOA means the grass will always be greener.
Location: While location used to have a lot to do with school districts and noise ordinances, these things are less important to most Millennials. They care about being close to their social scene: public transportation, trendy shops, and proximity to work are all important to Millennials.
While baby boomers tied a home purchase with settling down or starting family, Millennials view buying a home as an investment that will improve their everyday life.
Mark Colwell, Redfin Realty.
Tags: California Real Estate