Ross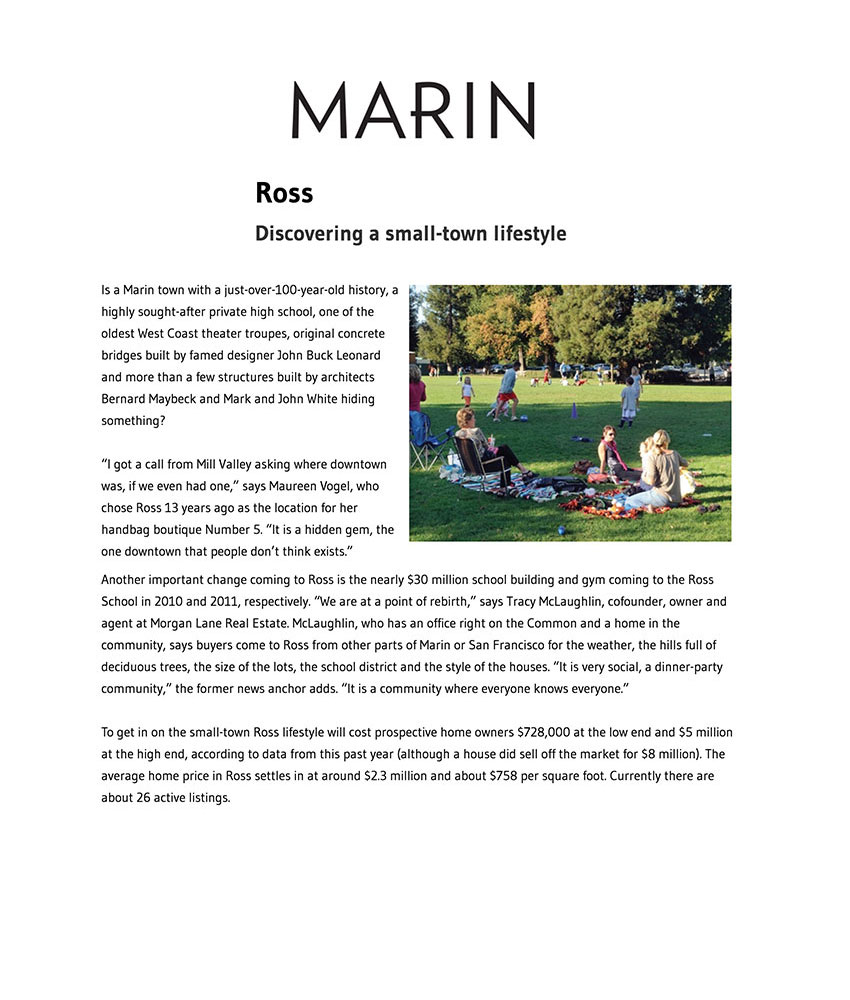 Is a Marin town with a just-over-100-year-old history, a highly sought-after private high school, one of the oldest West Coast theater troupes, original concrete bridges built by famed designer John Buck Leonard and more than a few structures built by architects Bernard Maybeck and Mark and John White hiding something?
"I got a call from Mill Valley asking where downtown was, if we even had one," says Maureen Vogel, who chose Ross 13 years ago as the location for her handbag boutique Number 5. "It is a hidden gem, the one downtown that people don't think exists."
But Vogel says she "fell madly in love" with the downtown area known as Ross Common—donated to the town in 1911 by the eldest daughter of town founder and namesake James Ross—which includes Breaking Away Bikes, Sam the Butcher art gallery, Cafe Marmalade, Marché aux Fleurs, Neneshoes and the mainstay, Eddie's Ross Grocery, located on the same corner for more than 80 years.
"People thought I was crazy to open here but I love it," the Corte Madera resident says, adding that people have learned to find her store, just a stone's throw from Sir Francis Drake Boulevard, and make special trips there to get bags they often can't find anywhere else in the Bay Area. "It's a great spot; I have a great view and so many friends in the neighborhood, like the moms across the street (from the Ross School).
"The locals have been very supportive and welcoming," she adds. "Everybody here wants to have a vibrant downtown. They even bring their friends by."
Indeed, everybody in Ross has to make it downtown at some point, as the town has no mail service—everything is put in post office boxes and must be picked up at the Ross Post Office, built in 1958 on the site of an old North Pacific Coast Railroad station.
"You get to know people at the post office; it draws one out," says longtime resident Pamela Sher. "You can easily walk there. It's fun."
Sher and her family moved into their 1905 vintage Maybeck/White–designed house 28 years ago after deciding to get out of the San Francisco fog and finding that it stopped somewhere around Ross. Their double, three-acre lot is full of trees, including about 130 oaks, and features an unobstructed view of Mount Tamalpais. But the property holds something else Sher finds even more inspiring, a nearly one-acre garden.
"It's a family project, a focus for getting together, a common interest," she says. "We have family dinners totally supplied by the garden."
One favorite example is the fall harvest dinner, when loved ones like her chef/daughter Lacey Sher, who is opening a wine bar called Encuentro in Oakland's Jack London Square, and friends such as former Healdsburg Dry Creek Kitchen chef Mateo Granados come together to cook up the bounty. "It is marvelous; we have some fantastic dishes," she says.
Two-term town council member and former mayor R. Scot Hunter also enjoys the small-town feel and family emphasis in Ross. "You cross the Lagunitas Bridge and with the architecture and pace of the town, you feel like you drop back 20 years," he says. "It's what North Coast towns used to be." Hunter says he really saw the spirit of the town residents in the dedication of the volunteer group that spent three years working on the 20-year general plan, completed in 2007. "We had a great group and they really stuck it out."
Going forward, Hunter says, important topics for the council will include everything from looking into requests for outdoor fireplaces and the hillside ordinance to flood control, emergency preparedness and completing work on the downtown plan. He says more parking by the post office is coming and that the council is even looking into the "dream" of a bridge over Sir Francis Drake Boulevard to the Marin Art and Garden Center. "It's such a wonderful asset, but it is separated," he says.
Another important change coming to Ross is the nearly $30 million school building and gym coming to the Ross School in 2010 and 2011, respectively. "We are at a point of rebirth," says Tracy McLaughlin, cofounder, owner and agent at Morgan Lane Real Estate. McLaughlin, who has an office right on the Common and a home in the community, says buyers come to Ross from other parts of Marin or San Francisco for the weather, the hills full of deciduous trees, the size of the lots, the school district and the style of the houses. "It is very social, a dinner-party community," the former news anchor adds. "It is a community where everyone knows everyone."
To get in on the small-town Ross lifestyle will cost prospective home owners $728,000 at the low end and $5 million at the high end, according to data from this past year (although a house did sell off the market for $8 million). The average home price in Ross settles in at around $2.3 million and about $758 per square foot. Currently there are about 26 active listings.
BY DANIEL JEWETT
Tags: Marin County Real Estate