Renovated Kentfield midcentury with kidney-shaped pool asks $3.99M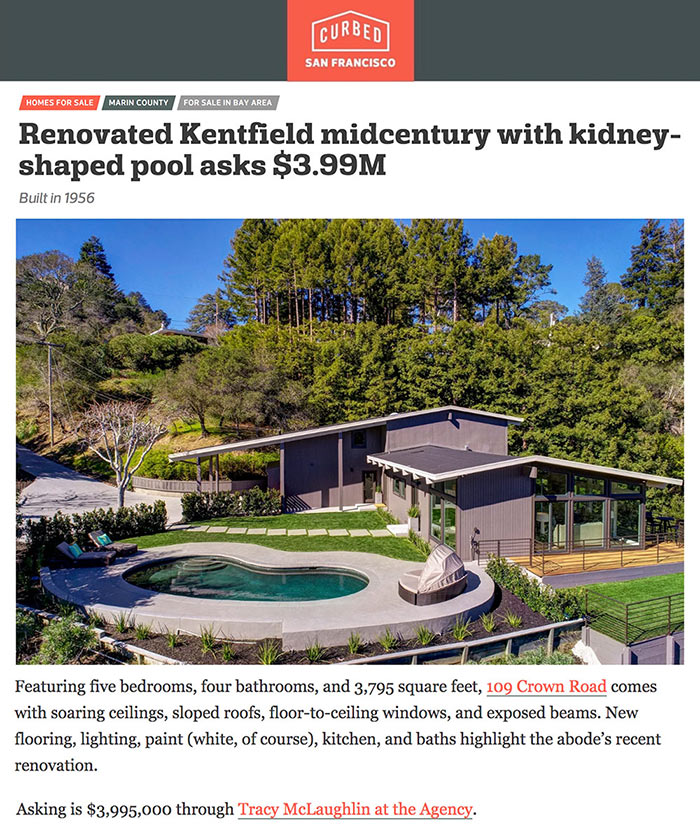 This midcentury-modern home, perched on a hillside in tony Kentfield, has undergone a major renovation yet still keeps an eye on the past with a smattering of intact period details to go along with the contemporary refresh.
Featuring five bedrooms, four bathrooms, and 3,795 square feet, 109 Crown Road comes with soaring ceilings, sloped roofs, floor-to-ceiling windows, and exposed beams. New flooring, lighting, paint (white, of course), kitchen, and baths highlight the abode's recent renovation.
The yard has also been freshly landscaped with a new lawn, sitting area, and deck. And as for the pool—you can breath a sigh of relief; there's no rectilinear infinity pool found here. The midcentury-era kidney-shaped pool—mercifully—remains.
Speaking of kidney-shaped pools, the first one was installed in Sonoma in 1948, which sparked it popularity in midcentury-modern homes.
"The first kidney-shaped pool using [Thomas] Church's modernist design ideologies was the one commissioned by the Donnell family for the modern home in Sonoma, California in 1948," according to Design Idea. "Church decided that instead of going for a rectilinear pool, this would be a good time to employ a freeform swimming pool shape to go with the family's modern house architecture."
Asking is $3,995,000 through Tracy McLaughlin at the Agency.
Tags: Bay Area Real Estate