North Bay professionals news from AUL Corp., EAH Housing, Meridian Commercial and more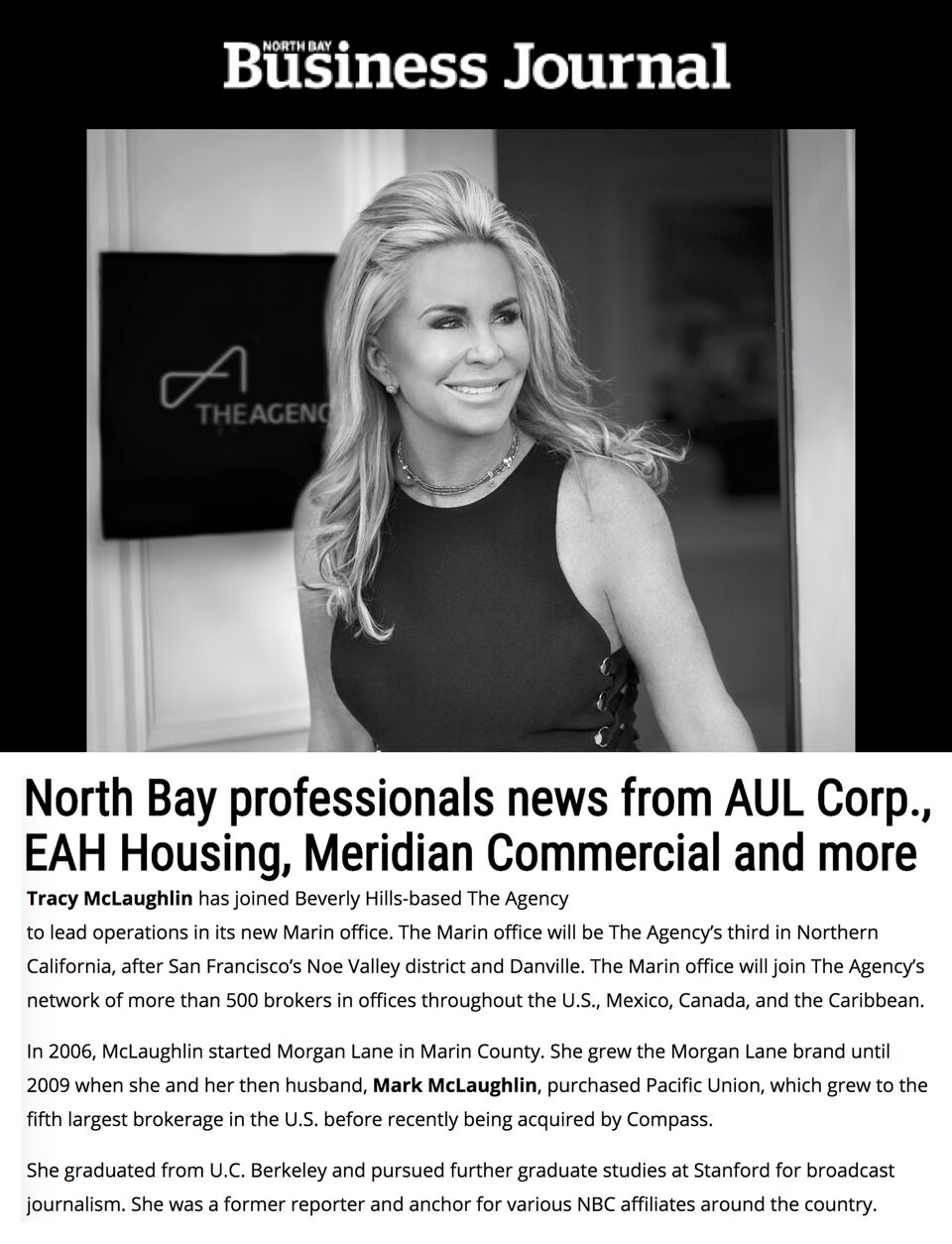 Paul McCarthy has been hired as vice president of national sales of AUL Corp. in Napa.
Most recently, McCarthy was vice president of sales at Warranty Solutions, a national provider of vehicle service contracts, dealer warranties, auto finance and insurance products to automotive dealerships nationwide.
Prior to Warranty Solutions, he spent nearly 20 years with the Stevenson Automotive Group, one of the largest automotive dealer groups in the greater Jacksonville and Wilmington, North Carolina region, as its corporate general manager.
—
San Rafael-based EAH Housing has announced two hirings and a promotion.
Denice Wint has been hired as director of real estate development and Josh Romoff as director of new business for real estate management. In addition, the nonprofit housing development and management firm promoted regional manager Jon Pasion to director of real estate management in Hawaii.
Wint is responsible for supervising project managers, executing development deals and facilitating relationships with local financial and government partners. Wint also manages activities during the predevelopment, development, initial or construction closing, construction and final closing stages, the group stated.
She was the director of projects and services for Innovative Housing Opportunities, where she oversaw real estate and community development projects as well as enhanced services programs. Earlier in her career, Wint worked at Los Angeles Housing Partnership for seven years and at Abode Communities.
Romoff is responsible for the expansion of the real estate management portfolio at EAH Housing. His role is to partner with owners, developers, and associations to professionally manage, develop and preserve more affordable housing communities. Romoff was the director and vice president of sales at several property management platform companies including On-Site.com, Screening Reports Inc. and Information Tycoon Inc.
Pasion joined EAH Housing in 1999 and has more than 20 years of property management experience in Hawaii.
—
Scott Gerber has joined Meridian Commercial as managing director of investment sales, while Steve Easley is joining as senior director and Kate Raphael is joining the company as an investment associate.
Gerber previously was managing director of Bradley Commercial Real Estate, and Easley was an agent in Cushman & Wakefield's San Rafael office.
In addition, Meridian Commercial announced the opening of its third office located at 711 Grand Ave. in San Rafael. Headquartered in Terra Linda, the firm also has an office in Petaluma. It specializes in the sales and leasing and property management of office, industrial, retail, and multifamily investments throughout the region.
—
Tracy McLaughlin has joined Beverly Hills-based The Agency to lead operations in its new Marin office. The Marin office will be The Agency's third in Northern California, after San Francisco's Noe Valley district and Danville. The Marin office will join The Agency's network of more than 500 brokers in offices throughout the U.S., Mexico, Canada, and the Caribbean.
In 2006, McLaughlin started Morgan Lane in Marin County. She grew the Morgan Lane brand until 2009 when she and her then husband, Mark McLaughlin, purchased Pacific Union, which grew to the fifth largest brokerage in the U.S. before recently being acquired by Compass.
She graduated from U.C. Berkeley and pursued further graduate studies at Stanford for broadcast journalism. She was a former reporter and anchor for various NBC affiliates around the country.
—
Mick Roberts is the new director of national sales for Fort Ross Vineyard & Winery in western Sonoma County. Previously, Roberts held positions as national sales manager for Locations Wine and central division manager for Aveníu Brands. Earlier in his career, he worked for Constellation Brands, Romano Beverage and E. & J. Gallo Winery. Roberts earned a Bachelor of Science degree from Rochester Institute of Technology, where he studied hotel and restaurant management.
—
Jim Boswell is the new executive vice president of sales for Ferrari-Carano Vineyards and Winery in Healdsburg. In this role, Boswell will be responsible for all wine sales throughout the United States and abroad, reporting directly to owner and Chief Executive Officer Rhonda Carano.
Boswell has served the company for 10 year, and has been Florida sales manager, southeast regional sales manager then vice president of sales for the Eastern United States. A graduate of Florida International University's Chaplin School of Hospitality Management, Boswell has also worked with companies such as Westin Hotels, Fairmont Hotels and Premier Beverage (also known as Breakthru Beverage). In his final role before joining Ferrari-Carano in 2008, Boswell ran the on-premises wine division in South Florida for Premier.
—
Gerald "Jerry" DeLorenzo has been appointed in-house executive sales manager for Barrel Associates International LP in Napa. The selection reflects the company's move to in-house sales and marketing. The firm was founded in 1990 by William Jaeger Jr., Jeffrey Jaeger and Rich Davis.
—
Gregory A. Walker has joined JS Design + Build as a project manager and estimator. He has 20 years of experience, according to the Napa firm.
—
Shelby Buchmann has been hired as a communications and membership director for the North Coast Builders Exchange in Santa Rosa. She is a recent graduate of the University of California, Los Angeles, with a bachelor's degree in communications studies. She will oversee the construction trade group's publication relations and marketing, as well as coordinating special events.
—
Casey Mikel is the new membership manager for the Napa County Farm Bureau. She is a graduate of North Dakota State University with a degree in agriculture communications and a minor in animal science.
—
Thomas Kern has affiliated with the commercial division of Coldwell Banker Brokers of the Valley in Napa. The firm said he will be based in Napa and handle properties throughout Napa, Sonoma and Solano counties. He was the owner of Northrup Properties Corporation.
—
Joe Rizzo is the new director of finance and administration as well as chief financial officer for Sonoma Land Trust. He replaced Paul DeMarco, who served in this role for nine years before retiring.
After several years working in for-profit businesses, Rizzo joined Judevine Center for Autism in St. Louis as chief operating officer in 2004. His most recent position was as chief financial officer of Buckelew Programs, a behavioral health services nonprofit organization based in San Rafael.
Prior to joining Buckelew Programs in 2017, Rizzo was finance manager for the Archdiocese of St. Louis. He holds a master's degree in finance from Webster University in Missouri.
—
David L. Anderson is the new U.S. attorney for the Northern District of California. President Donald Trump announced the nomination of Anderson on Aug. 16, 2018, and the Senate confirmed Anderson on Jan. 2.
He worked in the office before. From 1998 to 2002, he was an assistant U.S. attorney, and from 2008 to 2010 he was first assistant U.S. attorney. He also previously worked in the private sector, according to the announcement, as well teaching securities regulation at Hastings College of the Law.
Anderson graduated with distinction from Stanford Law School in 1990 and San Jose State University in 1985.
—
Ann Hammond has been hired as director of libraries for Sonoma County. She is set to begin her job on March 11.
Hammond is currently director of the Lexington Public Library in Kentucky and has held leadership positions at libraries in Florida, Maryland and California. She left a position in Alameda County for Lexington to take over as director of that library system.
—
Louis Briones is the new executive director of the Sausalito Art Festival. He is a board member of Sausalito Art Festival Foundation. The foundation stated he is a long-time resident of Sausalito and a marketing executive. The juried event is in its 67th year.
—
Joshua Rymer and Michael Mainardi have begun serving four-year terms on the Sonoma Valley Health Care District board of directors following their swearing in at the January board meeting. Both were elected to the position in November.
Rymer, an incumbent, is a four-year board member and the current board chairman, a position he will continue to hold this year. Mainardi begins his first term on the board, replacing Peter Hohorst, who has served on the board since 2008 and did not seek re-election.
Rymer is an independent consultant who develops sustainable business strategies for companies and nonprofit organizations. During his career, he has held positions with Pacific Bell (now AT&T), Boston Consulting Group and Charles Schwab & Co. Rymer holds bachelor degree from the University of Pennsylvania and The Wharton School and earned an MBA from Stanford's Graduate School of Business.
Mainardi is a retired physician who practiced in San Mateo for 39 years, specializing in internal medicine and gastroenterology. He served as the medical director of an ambulatory surgery center and as president of a single-specialty physician group. He also served on the clinical faculty of UCSF for 25 years and retired as associate clinical professor of medicine.
Mainardi holds a bachelor's degree from Georgetown University and received his medical degree from George Washington University School of Medicine and Health Sciences.
Tags: Economy