Mark McLaughlin took a huge gamble and it paid off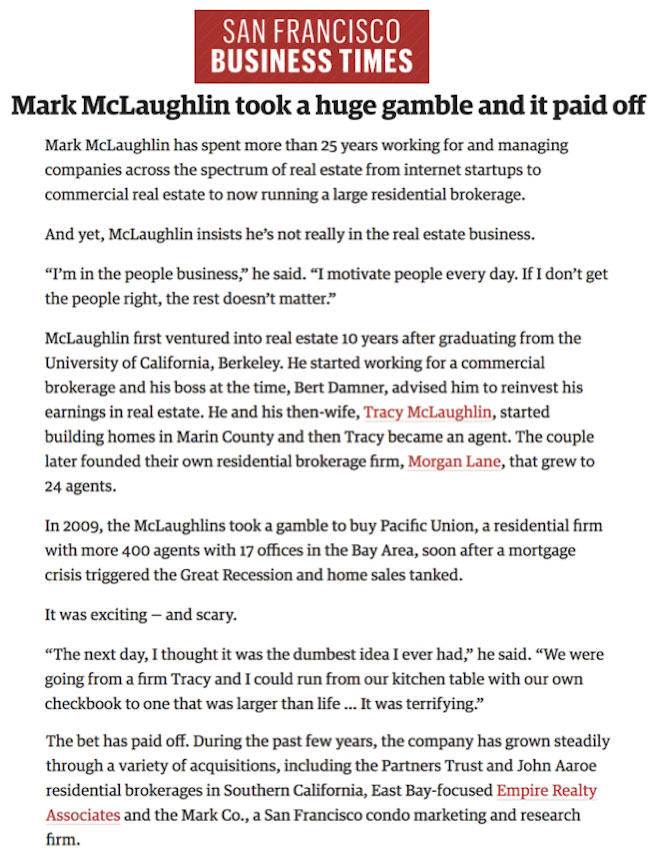 Mark McLaughlin has spent more than 25 years working for and managing companies across the spectrum of real estate from internet startups to commercial real estate to now running a large residential brokerage.
And yet, McLaughlin insists he's not really in the real estate business.
"I'm in the people business," he said. "I motivate people every day. If I don't get the people right, the rest doesn't matter."
McLaughlin first ventured into real estate 10 years after graduating from the University of California, Berkeley. He started working for a commercial brokerage and his boss at the time, Bert Damner, advised him to reinvest his earnings in real estate. He and his then-wife, Tracy McLaughlin, started building homes in Marin County and then Tracy became an agent. The couple later founded their own residential brokerage firm, Morgan Lane, that grew to 24 agents.
In 2009, the McLaughlins took a gamble to buy Pacific Union, a residential firm with more 400 agents with 17 offices in the Bay Area, soon after a mortgage crisis triggered the Great Recession and home sales tanked.
It was exciting — and scary.
"The next day, I thought it was the dumbest idea I ever had," he said. "We were going from a firm Tracy and I could run from our kitchen table with our own checkbook to one that was larger than life … It was terrifying."
The bet has paid off. During the past few years, the company has grown steadily through a variety of acquisitions, including the Partners Trust and John Aaroe residential brokerages in Southern California, East Bay-focused Empire Realty Associates and the Mark Co., a San Francisco condo marketing and research firm.
Thanks to those deals, Pacific Union more than doubled its number of real estate agents to 1,500 and added roughly $6 billion in sales volume to reach $10 billion last year. The company expects sales volume to swell to $18 billion for the current fiscal year.
READ MORE about Mark McLaughlin
Tags: Pacific Union