Marin real estate flippers may see last hurrah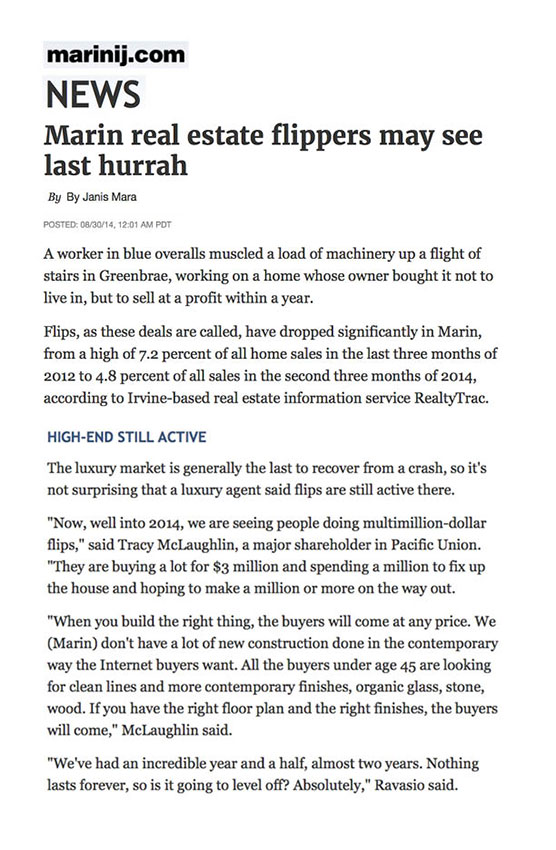 A worker in blue overalls muscled a load of machinery up a flight of stairs in Greenbrae, working on a home whose owner bought it not to live in, but to sell at a profit within a year.
Flips, as these deals are called, have dropped significantly in Marin, from a high of 7.2 percent of all home sales in the last three months of 2012 to 4.8 percent of all sales in the second three months of 2014, according to Irvine-based real estate information service RealtyTrac.
"I'm cautious going into next year," said Brett Foley, owner of 109 Via La Paz, the Greenbrae home under construction. Foley, who makes his living flipping, bought the house in January for $1.3 million and intends to fix it up and put it on the market by October for a higher price — a classic flipping pattern.
"This is a complete gut, down to the studs. We're installing new double-pane windows and cedar siding. The place has views of Mount Tam, the Bay Bridge, the Berkeley Hills from every room," Foley said. He has not yet decided his asking price.
While Foley has prospered, leaving a job managing construction crews to flip full-time, this house and another he's remodeling in Mill Valley could be his last hurrah.
STARTED IN 2012
The year 2012 "was when the flipping really took off," said Dave Corbin, a broker with HomeSmart Advantage Realty who said he has been a Marin agent since 1986. Corbin's assessment jibes with that of RealtyTrac, which reports that 114 homes were flipped in 2011, while 173 flips sold in 2012 and 133 in 2013, with 67 so far in 2014.
"For a flipper, the most important factor is how much the price is going to go up," said Daren Blomquist, vice president of RealtyTrac. Now that there are fewer foreclosures at rock-bottom prices, flippers can't make as much money. "We're showing in July in Marin County there were only 26 properties with foreclosure filings," Blomquist said.
Despite these numbers, Foley is probably on the right track as he totally remodels his flip, according to Blomquist.
"There will always be a niche opportunity for flippers because housing stock is aging in America. With these older homes, the flipper can step in and add value by refurbishing a property and making it look much more appealing to the end-use buyer," Blomquist said. "End-use buyer" refers to the person who will actually live in the house after purchasing it from the flipper.
'NOT THAT EASY'
"Everyone watches those shows and thinks it's really simple. It's not that easy," said Bob Ravasio of Coldwell Banker, referring to popular shows such as the HGTV series "Flip It to Win It."
"Just finding a candidate is difficult. Then there's transaction costs, time in carrying the property, cost of improvements including architect's fees and building permits, the commission and staging costs you have to pay to sell it," Ravasio said.
"So you generally need to sell it for around 40 percent more than you paid for it," the agent said.
Billy Ussery, an agent with Bradley Real Estate in Novato, has been a real estate professional for 45 years. He got into the flipping game in 2011 and 2012, when "it was a good market for flippers," Ussery said.
The agent would help his partner, a contractor, find and negotiate a purchase for a property, which the contractor would buy and remodel. Then Ussery would sell the place.
"We were buying low-end houses and we worked mostly in Novato. My rule of thumb was that I wanted to see the potential for a $100,000 increase between the purchase price and the sale price," Ussery said. The duo generally bought houses in the $400,000 to $500,000 range.
"We flipped eight properties in a year and a half," the agent said. It took the contractor as little as 30 days to fix up a house for sale. Ussery said he is no longer doing flips.
HIGH-END STILL ACTIVE
The luxury market is generally the last to recover from a crash, so it's not surprising that a luxury agent said flips are still active there.
"Now, well into 2014, we are seeing people doing multimillion-dollar flips," said Tracy McLaughlin, a major shareholder in Pacific Union. "They are buying a lot for $3 million and spending a million to fix up the house and hoping to make a million or more on the way out.
"When you build the right thing, the buyers will come at any price. We (Marin) don't have a lot of new construction done in the contemporary way the Internet buyers want. All the buyers under age 45 are looking for clean lines and more contemporary finishes, organic glass, stone, wood. If you have the right floor plan and the right finishes, the buyers will come," McLaughlin said.
"We've had an incredible year and a half, almost two years. Nothing lasts forever, so is it going to level off? Absolutely," Ravasio said.
Tags: Marin County Real Estate