Marin mansion super agent joins brokerage from Million Dollar Listing — see what she's sold over the years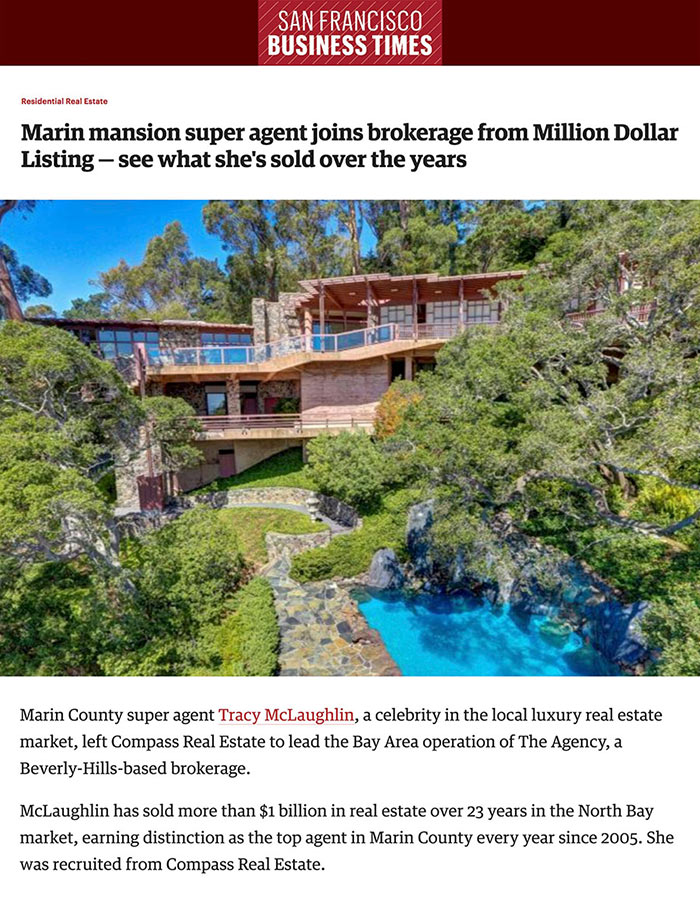 Marin County super agent Tracy McLaughlin, a celebrity in the local luxury real estate market, left Compass Real Estate to lead the Bay Area operation of The Agency, a Beverly-Hills-based brokerage.
McLaughlin has sold more than $1 billion in real estate over 23 years in the North Bay market, earning distinction as the top agent in Marin County every year since 2005. She was recruited from Compass Real Estate.
The luxury real estate brokerage The Agency was founded in 2011 by Mauricio Umansky and Billy Rose. Two agents from the company, James Harris and David Parnes, are stars of Bravo's reality show "Million Dollar Listing: Los Angeles."
"It's fresh, it's cool, it's very L.A. Hollywood," McLaughlin said of The Agency's brand. "I think we could use some of that in Northern California."
McLaughlin expressed confidence in her new company's leadership and said she looked forward to the intimacy of a smaller, "boutique" operation. She added that the brokerage aligned well with plans to publish a book on real estate and pursue future ventures in television.
"The founders are innovative, connected to high net worth individuals and media," McLaughlin said. "The optics of the brand are excellent. I think it will pop and stand out compared to other brokerages right now."
In 2006, Tracy and former husband Mark McLaughlin founded Morgan Lane Real Estate and opened offices throughout Marin County. Three years later they purchased Pacific Union International, which later became the largest non-franchise residential brokerage in California before it was bought by Compass. Before then, Tracy worked for Coldwell Banker Real Estate and spent eight years as a news reporter for NBC-affiliated television stations.
"We are delighted to not only welcome one of the most revered agents in Northern California to our firm, but to have her lead our Marin office," said Umansky, CEO and Founder of The Agency in a statement. "Establishing an office in Marin County has always been a part of our strategic growth plan, and we look forward to announcing new offices shortly."
McLaughlin sold $155 million worth of real estate in 2017, landing her at no. 51 in the latest annual nationwide broker ranking by the Wall Street Journal and REAL Trends.
The new Larkspur office is The Agency's third location in Northern California after Noe Valley and Danville. The Agency has offices in the United States, Mexico, Canada, and the Caribbean.
Tags: About Tracy McLaughlin