Marin homebuyers struggle with dearth of homes on the market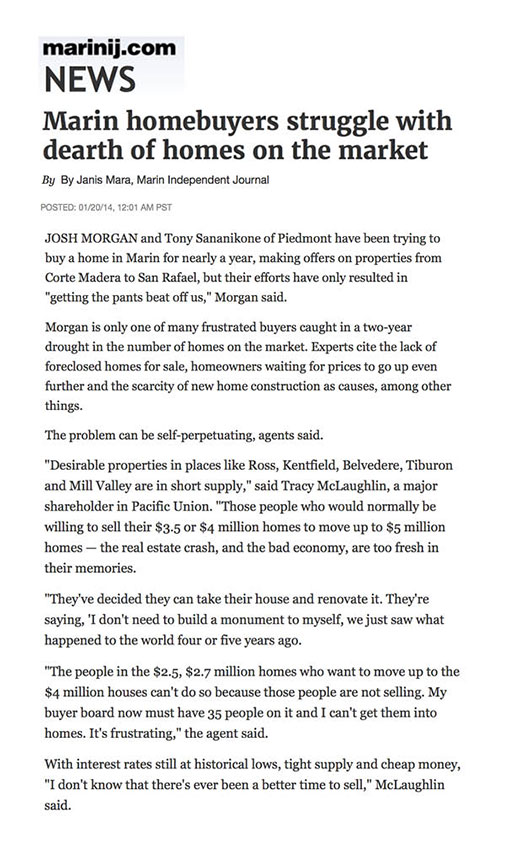 JOSH MORGAN and Tony Sananikone of Piedmont have been trying to buy a home in Marin for nearly a year, making offers on properties from Corte Madera to San Rafael, but their efforts have only resulted in "getting the pants beat off us," Morgan said.
Morgan is only one of many frustrated buyers caught in a two-year drought in the number of homes on the market. Experts cite the lack of foreclosed homes for sale, homeowners waiting for prices to go up even further and the scarcity of new home construction as causes, among other things.
The problem can be self-perpetuating, agents said.
"People hesitate to sell their homes because they don't know how they would fare when they become buyers," said Eric McFarland, an agent with Pacific Union. "Inventory is so low, when good properties come on the market it gets competitive, with multiple offers." So potential sellers don't list their homes, further limiting the number of homes for sale.
While the multiple-offer situation has eased in recent months, Morgan is all too familiar with multiple bidding from other buyers competing for the same place.
"A house went on the market in San Rafael for $1,300,000. We offered $1,425,000, but there were 10 other offers, and it went for $1,650,000," said Morgan, who is a banker.
In December 2010, there were 952 homes on the market in Marin. By December 2013, the number was down to 283, a 70 percent drop, according to data from Bay Area Real Estate Information Services, a multiple listing service.
There were 2.3 months of inventory available in December 2013, meaning that if no new homes went up for sale, it would take just a little more than two months to sell every home on the market. Normal inventory in Marin is about four months' worth.
"In the fourth quarter of 2010, 25 percent of all the properties for sale in Marin were in contract," said Patti Cohn, an agent with Pacific Union. "In the fourth quarter of 2013, it was 52 percent. The percentage of all homes on the market that sold was 28 percent back then, versus 60 percent now."
One of the reasons for the low supply could be that "homeowners may simply be hoping that house prices will continue to rise, allowing them to recover lost equity," said John Krainer, a senior economist in the economic research department of the Federal Reserve Bank of San Francisco.
"It is well-documented that house price changes are persistent," meaning that price rises are likely to be followed by more rises, Krainer said. Those homeowners who don't have to sell right away "can potentially take advantage of this. They may want to wait and gamble that the increases will continue, allowing them to sell later at a higher price."
Data collected in April 2013 by real estate sites Zillow and Corelogic shows a correlation, with the phenomenon, "though not necessarily causation," Krainer said.
"Counties that experienced large increases in house prices over the past year also experienced relatively large declines in inventories available for sale," Krainer said. The median price in Marin zoomed by as much as 26 percent month-over-month in 2013.
A local agent echoed Krainer's analysis.
"I think people are just hoping if they wait a little bit longer that their home will be worth a little more," said Alva Falla, an agent with Coldwell Banker.
Another factor: "The foreclosure pipeline is drying up," Leslie Appleton-Young, chief economist of the California Association of Realtors, asserted early last year. The trend has continued, both in Marin and across the Bay Area.
"A lot of the inventory was driven by short sales, and fewer short sales are coming on the market," said George Crowe, a real estate agent with Alain Pinel in Corte Madera. A short sale is when a property is sold for less than what is owed on the mortgage.
Andrew LePage, an analyst with real estate information company DataQuick, also mentioned "relatively little home construction."
Along those lines, "There's high demand for houses, a huge amount of dedicated open space and a strong no-growth policy," Cohn said. As just one measure, 185,400 acres, or 55.6 percent of county land, is under permanent protection, according to Greenbelt Alliance.
A bottleneck in the luxury market could be chalked up to psychological factors, according to one luxury agent.
"Desirable properties in places like Ross, Kentfield, Belvedere, Tiburon and Mill Valley are in short supply," said Tracy McLaughlin, a major shareholder in Pacific Union. "Those people who would normally be willing to sell their $3.5 or $4 million homes to move up to $5 million homes — the real estate crash, and the bad economy, are too fresh in their memories.
"They've decided they can take their house and renovate it. They're saying, 'I don't need to build a monument to myself, we just saw what happened to the world four or five years ago.
"The people in the $2.5, $2.7 million homes who want to move up to the $4 million houses can't do so because those people are not selling. My buyer board now must have 35 people on it and I can't get them into homes. It's frustrating," the agent said.
With interest rates still at historical lows, tight supply and cheap money, "I don't know that there's ever been a better time to sell," McLaughlin said.
More homeowners may soon come to the same conclusion, others said.
"We do expect to see new homes coming on the market over the next two months, tracking seasonal trends. Stagers are busy now, which is a good indication of future inventory," said Barr Haney, an agent with Pacific Union. Stagers decorate and furnish homes for sale in the most attractive manner in hope of piquing buyers' interest.
"The inventory dips in late November, December and January, but we always start to see it pick up in February, March and April, regardless of the market," Haney said.
"I suspect that more houses will come onto the market as times get better," said Krainer. "To the extent that the recovery continues apace I would expect housing inventory to increase."
Contact Janis Mara via email at jmara@marinij.com. Follow her at Twitter.com/jmara.
Tags: Economy