Marin estate from celebrated mid-century modern architect hits market for first time in 15 years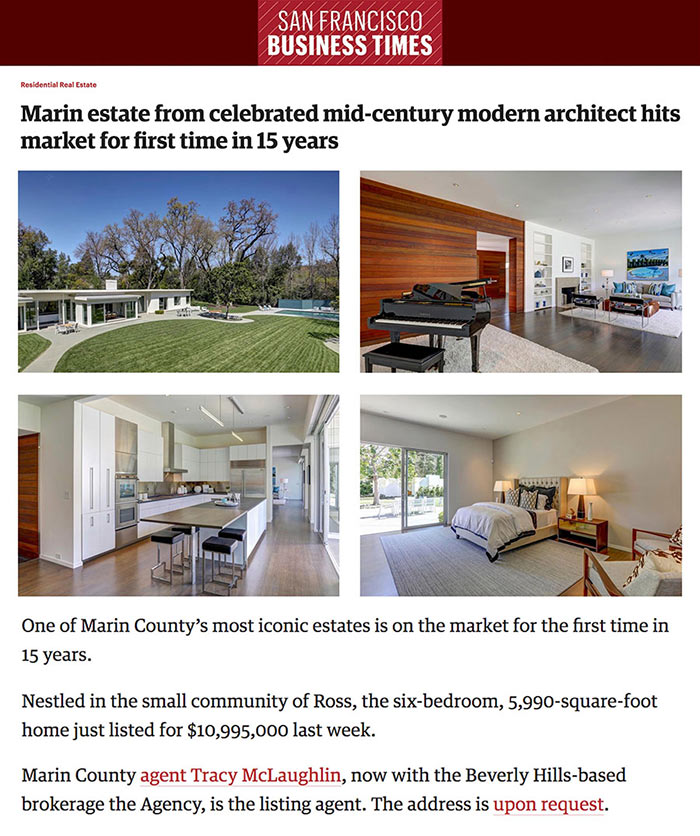 One of Marin County's most iconic estates is on the market for the first time in 15 years.
Nestled in the small community of Ross, the six-bedroom, 5,990-square-foot home just listed for $10,995,000 last week.
The storied residence was designed by Gardner Dailey — an internationally recognized mid-century minimalist architect from the Bay Area — and has been published on multiple occasions. The current owners retained the San Francisco design firm of Holly Hulburd to recreate Dailey's original design with new aesthetic and upgraded materials.
The main house features 4.5 bathrooms, vaulted ceilings, tall glass walls and a fireplace. The estate also includes a pool heated by solar panels, a large lawn and a detached 765-square-foot guest house with an additional bedroom, bathroom, full kitchen and living room.
Oak trees, large lawns and gardens featuring year-round color define the 1.4-acre grounds, and the property also includes a 5,000-gallon well for landscape irrigation. The grounds were designed by famed landscape architect Thomas Church, nationally recognized as one of the pioneer landscape designers of California modernism.
Designed for entertaining, the residence offers a yard capacity that allows for hosting grand scale events and fundraisers. To that end, it boasts a two-car garage with a Tesla charging outlet and driveway parking for up to 10 or more cars. The residence is also just one block from Ross School and provides immediate access to Phoenix Lake.
Marin County agent Tracy McLaughlin, now with the Beverly Hills-based brokerage the Agency, is the listing agent. The address is upon request.
Tags: Design