Hitting Home: Recent Marin County Buyers' and Sellers' Stories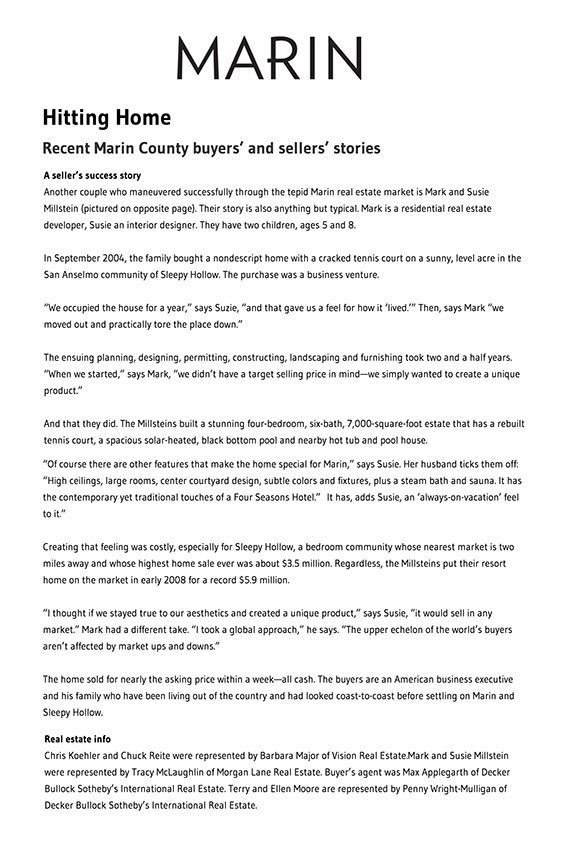 It's relentless. Newspapers and newscasts keep shouting: "Mortgage crisis continuing," "Real estate bubble bursting," "Home sales dropping." What kind of person would venture into a real estate market so pummeled by negativity?
"Crazy people, like us," answers Chris Koehler, who in May bought a $1.7 million Tiburon home with partner Chuck Reite before their current home was even in escrow.
Marin's residential real estate pool has not just "cooled off, but is downright chilly," as one local realty agent puts it. Even though Marin has mostly avoided the double-digit home price drop afflicting much of California and the nation, the county's foreclosure rate doubled in the first quarter of this year, with 314 properties facing default. Still, even as sales lag (down 37 percent in May from the year before), local home prices continue to climb, rising 19 percent in May from a year earlier to $1.1 million —a sure signal of the county's ongoing appeal and long-term value.
Those qualities–—and a view to die for –—are what enticed Koehler and Reite to plunge into their buy-before-selling escapade. "It was a high-wire act," says Reite. "But because of the neighbors and the views we always wanted to live on this street."
Risky business
Seven years ago, Koehler, who's with the Tiburon Peninsula Chamber of Commerce, and Reite, a San Rafael administrative judge, would walk from their small Tiburon condo down Vistazo West Street to an open space with unmatchable vistas of the town, the bay and the San Francisco skyline. "There are less than a dozen homes on this part of Vistazo," says Koehler, "and we've made offers for or looked seriously at three of them." Yet nothing ever connected.
Eventually, they bought a 1950s three-bedroom production home in a nice but viewless nearby neighborhood. "We paid around a million bucks," says Reite. "And we continued to wait for a Vistazo West home to come on the market," adds Koehler, "and waited."
Five years had passed when she got word that a Vistazo West house fronting on open space was on the market at the attractive price of $1.6 million. "I rushed up there and it was a buyer's frenzy," Koehler says. "By the time Chuck saw it, four offers were already in." Ironically, although Koehler and Reite paid $100,000 over the asking price and got the house, they weren't the high bidder.
"What won it for us," says Reite, "were three things: We were pre-qualified for a loan, we agreed to a three-week escrow, and we knew values in the area."
The couple put their other home, the cozy but viewless one, on the market immediately. But, says Koehler, a laugh in her voice, "we closed on our Vistazo West home before any offers were in."
It was a risky move, says Reite, because "a two-mortgage family isn't a happy family." Within a week, though, the couple got a cash offer. "And it was $500,000 more than we paid for it five years earlier," says Reite. "That's more than I made in 30 years of practicing law."
A seller's success story
Another couple who maneuvered successfully through the tepid Marin real estate market is Mark and Susie Millstein (pictured on opposite page). Their story is also anything but typical. Mark is a residential real estate developer, Susie an interior designer. They have two children, ages 5 and 8.
In September 2004, the family bought a nondescript home with a cracked tennis court on a sunny, level acre in the San Anselmo community of Sleepy Hollow. The purchase was a business venture.
"We occupied the house for a year," says Suzie, "and that gave us a feel for how it 'lived.'" Then, says Mark "we moved out and practically tore the place down."
The ensuing planning, designing, permitting, constructing, landscaping and furnishing took two and a half years. "When we started," says Mark, "we didn't have a target selling price in mind—we simply wanted to create a unique product."
And that they did. The Millsteins built a stunning four-bedroom, six-bath, 7,000-square-foot estate that has a rebuilt tennis court, a spacious solar-heated, black bottom pool and nearby hot tub and pool house.
"Of course there are other features that make the home special for Marin," says Susie. Her husband ticks them off: "High ceilings, large rooms, center courtyard design, subtle colors and fixtures, plus a steam bath and sauna. It has the contemporary yet traditional touches of a Four Seasons Hotel." It has, adds Susie, an 'always-on-vacation' feel to it."
Creating that feeling was costly, especially for Sleepy Hollow, a bedroom community whose nearest market is two miles away and whose highest home sale ever was about $3.5 million. Regardless, the Millsteins put their resort home on the market in early 2008 for a record $5.9 million.
"I thought if we stayed true to our aesthetics and created a unique product," says Susie, "it would sell in any market." Mark had a different take. "I took a global approach," he says. "The upper echelon of the world's buyers aren't affected by market ups and downs."
The home sold for nearly the asking price within a week—all cash. The buyers are an American business executive and his family who have been living out of the country and had looked coast-to-coast before settling on Marin and Sleepy Hollow.
Outside looking in
The Marin real estate market is conflicted—slower sales, but steadily rising prices. With such mixed signals, it's important to look at the market in context. Who better to provide that vision than a "corporate gypsy," an itinerant executive wanting to move to Marin from Doylestown, Pennsylvania.
"I recently accepted the position of VP of sales and marketing for Transcept Pharmaceuticals in Point Richmond," says 51-year-old Terry Moore, "and now I have to find a place to live. My wife and I really like Marin County."
Complicating Moore's search are Marin's prices and the home he has to sell back in Doylestown, part of upscale Bucks County in suburban Philadelphia.
"Our home is only nine years old," says Moore. "It's 7,500 square feet with four bedrooms and five baths in a bucolic setting with nearly two acres surrounding it." He uses that space to enjoy his custom-built pool table, display his guitar collection and accommodate his wife's grand piano, a family heirloom. Here's the rub: Moore's storybook Pennsylvania home is listed at $1.275 million.
Moore and his wife, Ellen, have looked at properties in Sausalito, Mill Valley, San Anselmo, Larkspur and Corte Madera. Their kids are grown and gone, so they're willing to compromise but, says Moore, "the sticker shock has been overwhelming."
"Seriously," he says, "we're seeking counseling."
His solution so far? "We're thinking about buying a Winnebago motor home and staying in a Wal-Mart parking lot," he says. "But we can't find a Wal-Mart."
Real estate info
Chris Koehler and Chuck Reite were represented by Barbara Major of Vision Real Estate.Mark and Susie Millstein were represented by Tracy McLaughlin of Morgan Lane Real Estate. Buyer's agent was Max Applegarth of Decker Bullock Sotheby's International Real Estate. Terry and Ellen Moore are represented by Penny Wright-Mulligan of Decker Bullock Sotheby's International Real Estate.
BY JIM WOOD
Tags: California Real Estate