GENERATE 4X RETURNS ON HOME RENOVATIONS WITH TRACY MCLAUGHLIN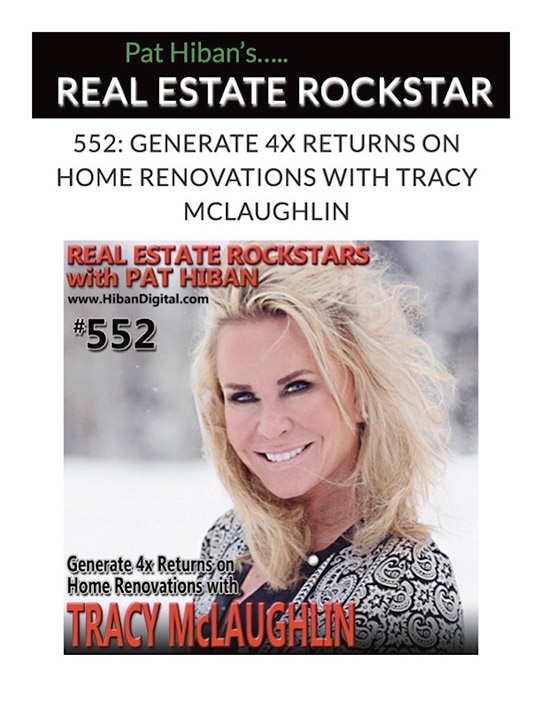 Double, triple, or even quadruple your investment on home renovations when the time comes to sell! Top real estate agent and renovation expert Tracy McLaughlin joins us today to share how she regularly gets sellers 4x returns with the right home renovations. Not only does she cover her proven 2-step process for renovating sellers' homes, she lists the exact renovations that provide the highest ROI in today's housing markets. If you want to maximize sale prices for clients or boost the value of your own home, this is one Real Estate Rockstars podcast you won't want to miss!
Tracy McLaughlin
Tracy McLaughlin has been Marin County's top producer every year since 2005 and was ranked #39 Individuals by Sales Volume in the United States for 2016 by REAL Trends/The Wall Street Journal. A lifelong resident of Marin, Tracy's acute understanding of the local market, coupled with her unsurpassed knowledge of the region, has made her the broker of choice for luxury home buyers and sellers in Marin County.
Tracy's extensive experience in design and construction makes her uniquely qualified to advise her clients on the smartest investment decisions regarding which home to purchase, when to sell and what improvements to make in anticipation of selling to maximize the property's resale value.
Born and raised in the small community of Ross in Marin County, Tracy McLaughlin graduated from U.C. Berkeley and went on to do graduate work in television broadcasting at Stanford University. Tracy worked for eight years as a reporter/anchor for various NBC affiliates around the country. She credits her background in journalism and communication as an integral part of her ability to effectively present properties and negotiate transactions. In 2006, Tracy and Mark McLaughlin opened Morgan Lane Marin offices throughout Marin County. In August of 2009, they purchased Pacific Union Real Estate that currently has 29 offices in the Greater Bay Area and the Tahoe/Truckee region.
Tracy has three children and her active involvement in local communities allows her to provide her clients with invaluable insights into the overall experience of living in Marin County. Tracy has a longstanding history of giving back to the places where she lives and works, with a focus on local charities that directly benefit Marin County residents. In 2013, Tracy launched Klaas Family Housing, an organization that provides financial support for mortgage or rent for the families of abducted children. Tracy donates a percentage of every sale to the organization.
Tracy has also donated time and resources to many of Marin's local schools, sports teams and other foundations. She believes that it is the responsibility of successful business leaders to give back to their communities. Tracy has been very involved in the Ross School, serving on the board of the school's foundation for four years and chaired the annual Patron Party for the Garden Tour.
Tags: Design