Five Unique Bay Area Homes Currently On The Market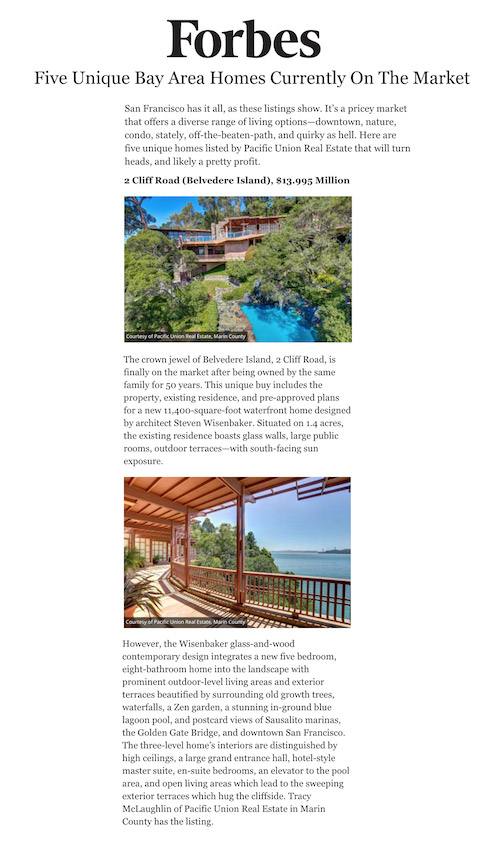 San Francisco has it all, as these listings show. It's a pricey market that offers a diverse range of living options—downtown, nature, condo, stately, off-the-beaten-path, and quirky as hell. Here are five unique homes listed by Pacific Union Real Estate that will turn heads, and likely a pretty profit.
301 Pacific Avenue (Pacific Heights, San Francisco), $22 Million
All five levels of this stately former Egyptian consulate in San Francisco were rebuilt and renovated with custom detailing, including paneled walls, intricate crown molding, and textured carpeting or original hardwood flooring. The immaculate 14,000-squre-foot corner mansion is still primed for hosting large galas for prominent people—boasting three kitchens, six full baths, eight half baths and a slew of entertaining rooms, reception rooms, a security room, side entry, back staircase and iron clad security gates.
The home includes two unique master suites, several additional bedroom suites and guest bedrooms, a yard with a garden, two garages, and a private landscaped driveway. Custom work definite this mansion—grand mantle fireplace with marble hearth, dramatic grand staircase, modern chandeliers, glamour walk-in closets, frosted windows, marble bathrooms, and a sweeping terrace. The basement includes a full catering kitchen and several au-pair-style quarters. Nina Hatvany of Pacific Union Real Estate San Francisco has the listing.
2 Cliff Road (Belvedere Island), $13.995 Million
The crown jewel of Belvedere Island, 2 Cliff Road, is finally on the market after being owned by the same family for 50 years. This unique buy includes the property, existing residence, and pre-approved plans for a new 11,400-square-foot waterfront home designed by architect Steven Wisenbaker. Situated on 1.4 acres, the existing residence boasts glass walls, large public rooms, outdoor terraces—with south-facing sun exposure.
However, the Wisenbaker glass-and-wood contemporary design integrates a new five bedroom, eight-bathroom home into the landscape with prominent outdoor-level living areas and exterior terraces beautified by surrounding old growth trees, waterfalls, a Zen garden, a stunning in-ground blue lagoon pool, and postcard views of Sausalito marinas, the Golden Gate Bridge, and downtown San Francisco. The three-level home's interiors are distinguished by high ceilings, a large grand entrance hall, hotel-style master suite, en-suite bedrooms, an elevator to the pool area, and open living areas which lead to the sweeping exterior terraces which hug the cliffside. Tracy McLaughlin of Pacific Union Real Estate in Marin County has the listing.
2557-2571 Filbert Street (Cow Hollow, San Francisco), $12 Million
This complicated listing in San Francisco's Cow Hollow neighborhood is ideal for a complicated family dynamic. It features three homes on a double lot which share a courtyard—ideal as a large family compound for in-laws and quirky cousins. The largest home (2567 Filbert) is a three-story, four bedroom, three bath residence with bay views. The second (2557 Filbert) can be designated for the family loner as it has one bedroom, one bath, a backyard and "bonus rooms." The third home (2571 Filbert) also has one bedroom and one bath and houses the compounds two garages, perhaps for the uncle who always tweaks his exotic car engines. Sounds like a hard sell, but there's a family out there somewhere who fits this dynamic scenario. Nina Hatvany has this rare listing.
2727 Vallejo Street (Pacific Heights, San Francisco), $7.9 Million
Architecturally unique and situated below the Gold Coast, this four bedroom, five-and-a-half bathroom home is highlighted by a sublime living room that opens to a cozy backyard, and perfect views of the bay and Golden Gate Bridge from the master suite. It also includes a den office and four bedrooms on the upper two levels, each with ensuite bathrooms. Nina Hatvany holds the listing.
Four Seasons Residence (San Francisco), $6.45 Million
Located at 765 Market Street on the 36th floor, this sophisticated home opens via a double-door entry and foyer, and weaves elegantly through a formal dining room and grand living room with custom library and floor-to-ceiling windows—offering vistas from Twin Peaks to Alcatraz. The three bedroom, three-and-a-half bathroom condo is highlighted by marble bathrooms and a chef's kitchen with luxury appliances, wine refrigerator, breakfast bar and a built-in seating bench. Nina Hatvany holds the listing.
Tags: Marin County Real Estate