Discreetly Spectacular Estate in Ross, $17M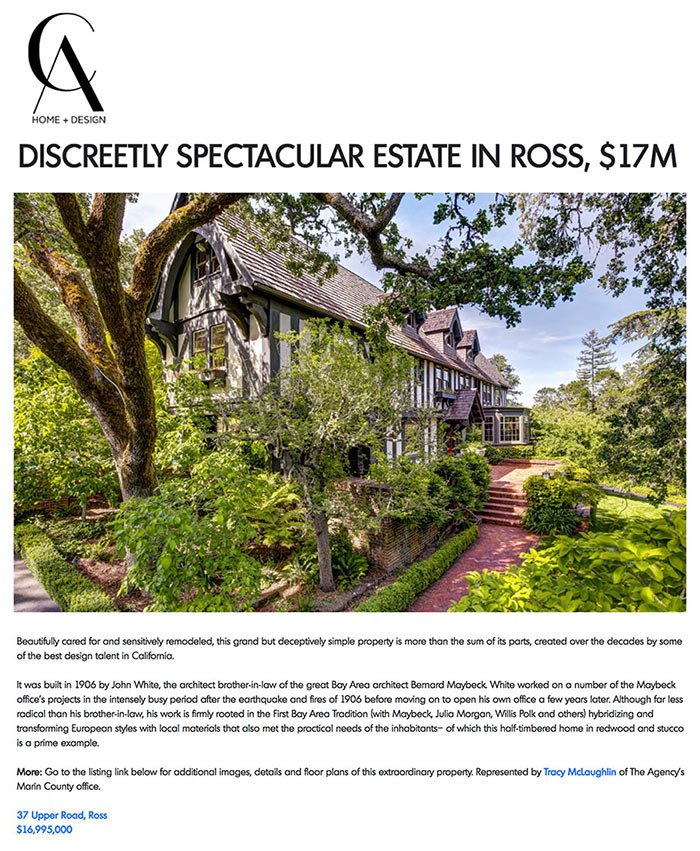 Beautifully cared for and sensitively remodeled, this grand but deceptively simple property is more than the sum of its parts, created over the decades by some of the best design talent in California.
It was built in 1906 by John White, the architect brother-in-law of the great Bay Area architect Bernard Maybeck. White worked on a number of the Maybeck office's projects in the intensely busy period after the earthquake and fires of 1906 before moving on to open his own office a few years later. Although far less radical than his brother-in-law, his work is firmly rooted in the First Bay Area Tradition (with Maybeck, Julia Morgan, Willis Polk and others) hybridizing and transforming European styles with local materials that also met the practical needs of the inhabitants– of which this half-timbered home in redwood and stucco is a prime example.
Fast forward a hundred years, when new owners undertook a complete renovation overseen by Hans Baldauf , a co-founder and principal of the eminent Bay Area firm BCV Architecture + Interiors. BCV's portfolio ranges from luxury dwellings to wineries to major projects like the retail and hospitality aspects of San Francisco's iconic Ferry Building, a complex adaptive re-use project executed so brilliantly it's hard to imagine The Embarcadero without it.
BCV re-programmed the house for a family of five, improving the interior flow and its connection to the outdoors, seamlessly restoring the interior woodwork, adding a new pool house and an outdoor kitchen, and allowing the house to evolve without sacrificing its sense of history and place. The nearly $7M renovation was finished in 2009.
The major ground floor spaces are paneled in fine-grained redwood, from a time when old-growth forests must have seemed an unlimited resource. Completing the owners' vision, the austere but luxe interiors and furniture design are by the Wiseman Group.
Tags: Marin County Real Estate