Businesses In Full Bloom with Larkspur Chamber of Commerce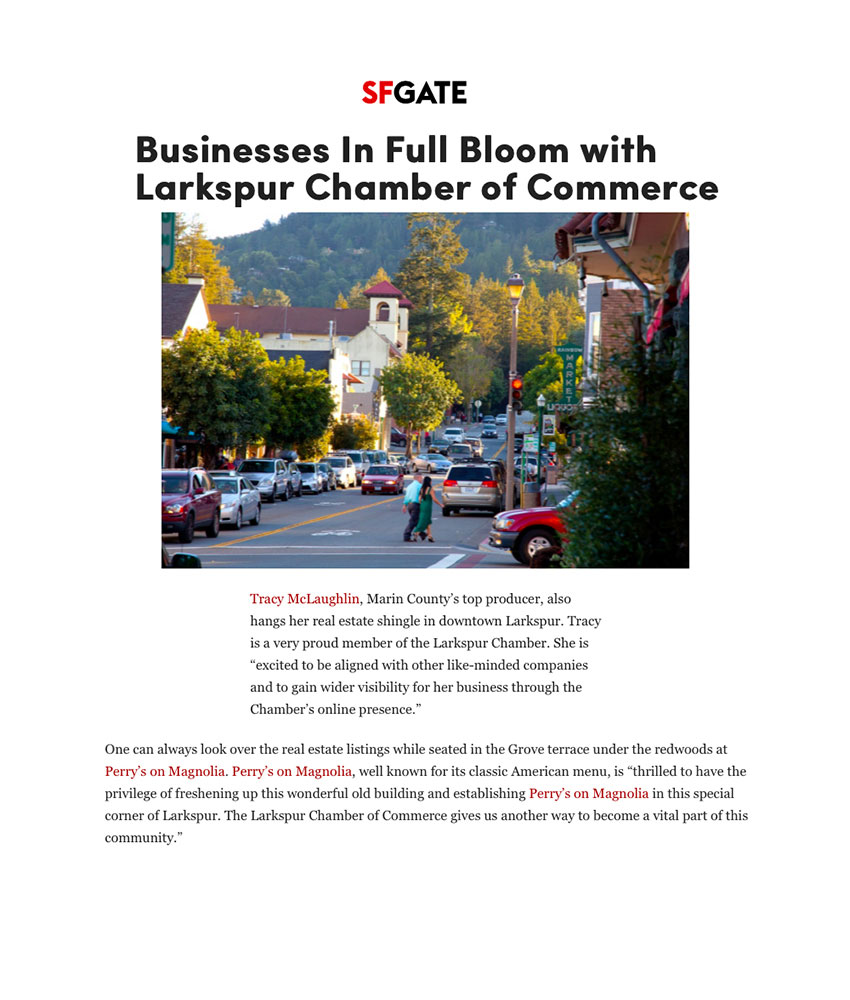 Nestled between the San Francisco Bay and Mount Tamalpais, you will find Larkspur. The town is comprised of five distinctive neighborhoods that include an historic downtown and Larkspur Landing, home to the Golden Gate Ferry terminal. An immensely walkable and bike-friendly environment, Larkspur is home to restaurants, shopping, lodging, and a range of business.
The Larkspur Chamber of Commerce was founded in the 1950s to promote a prosperous community. The Chamber continues this mission today by supporting its members as they create, nurture, and reinvent their businesses. Together they form a vital commercial foundation for the city's neighborhoods and enhance the daily life of Larkspur residents and visitors.
Larkspur Landing
Larkspur's businesses are as distinct as its landscape. The Golden Gate Ferry runs daily from San Francisco to Larkspur Landing, the gateway to Marin County exploration. The passenger ferry, with ample bicycle parking, offers spectacular vistas of the entire Bay Area. Of course, visitors can always hop on an electric bike from The New Wheel Electric Bike Shop.
The Golden Gate Ferry and New Wheel both praise the Larkspur Chamber's "ability to expand our visibility" and "spread the word" about their businesses, an effort that "gets visitors into Marin County to experience all we have to offer."
Many visitors choose to stay right at the Larkspur Courtyard by Marriott. The hotel sports a newly renovated lobby and is within walking distance of Marin County's transportation hub.
Larkspur Courtyard by Marriott was "very happy to share the excitement of our renovation with all of the Larkspur Chamber members at our open house. It is a pleasure to work with those who share the special feeling about our community."
Downtown Larkspur
Downtown Larkspur realtor Angela Pennino Curley echoes Courtyard by Marriott's positive sentiments, and strongly believes being a member of the Larkspur Chamber "demonstrates to your community the importance of unity and commerce within neighborhoods. I sincerely believe that a community that builds together prospers together."
Promenading down majestic Magnolia Avenue past the Victorian homes, Mission revival-style church, and colorful store facades, you won't be surprised to learn downtown Larkspur is listed on the National Register of Historic Places as representative of a turn-of-the-century downtown. Today's strollers discover fashionable stores, art galleries, and restaurants all within walking distance among the historic landmarks.
Larkspur Chamber members also include Equator Coffees & Teas, the Marin-based roaster and 2016 "National Small Business of the Year." "When we opened our Equator Larkspur Cafe, the Chamber was there to support us with a ribbon-cutting ceremony and has since been an outstanding partner in helping ingratiate Equator to the Larkspur community."
Tracy McLaughlin, Marin County's top producer, also hangs her real estate shingle in downtown Larkspur. Tracy is a very proud member of the Larkspur Chamber. She is "excited to be aligned with other like-minded companies and to gain wider visibility for her business through the Chamber's online presence."
One can always look over the real estate listings while seated in the Grove terrace under the redwoods at Perry's on Magnolia. Perry's on Magnolia, well known for its classic American menu, is "thrilled to have the privilege of freshening up this wonderful old building and establishing Perry's on Magnolia in this special corner of Larkspur. The Larkspur Chamber of Commerce gives us another way to become a vital part of this community."
North Magnolia
Businesses of every style and size benefit from membership in the Larkspur Chamber, according to Hello Gorgeous, a ladies formal-wear shop located in North Magnolia that offers an exquisite selection of gowns, in-house designs, and cocktail dresses. "Larkspur Chamber membership has brought our boutique local awareness on a rapid level, which is vitally important to any small business. Additionally, the Chamber's relationship with neighboring media has allowed small businesses to easily widen their reach, bringing potential new customers from surrounding towns."
North Magnolia features a vast array of businesses such as creative firms, therapy centers, retail stores and kitchen design outlets. The innovative Stress Management Center of Marin offers a variety of yoga and other therapy programs. Robin, the owner of Stress Management Center of Marin, says "I'm excited to be part of the Chamber. I think it will increase our visibility both online and by allowing us to participate in Chamber-sponsored events."
Abode Marin provides full service interior design and a furnishings showroom. From complete home design to any individual room, Abode Marin works with homeowners and industry pros across the neighborhoods of Larkspur and throughout the Bay Area.
Soon to celebrate its one-year anniversary, Abode Marin fondly recalls their ribbon-cutting ceremony and views the Larkspur Chamber as "a wonderful opportunity to network with other Chamber members and to afford us the opportunity of gathering on a social basis to share ideas."
Balloon Delights knows all about celebrations, having decorated venues, and designed centerpieces, lighting and fabric installations, as well as special effects, for 35 years. Like Abode Marin, Balloon Delights appreciates the Larkspur Chamber's "good mixers" in addition to the "helpful free advertising."
Greenbrae
Greenbrae requires no introduction for Marin County residents. Home to Bon Air Greenbrae, a gathering place with more than 50 specialty stores, family-friendly restaurants and essential services, Marin celebrates the local roots and spirit here in addition to the welcoming outdoor spaces and spectacular views of Mt. Tam. Bon Air credits the Larkspur Chamber with providing "credibility and visibility. Membership increases positive perceptions among our customers and our tenants."
The Style Bar, the first blow dry and beauty bar in the region, is one example of the unique shops located within Bon Air. Pausing at The Style Bar provides the perfect respite. The Style Bar also "loves the commitment to the area and the communication Larkspur Chamber provides," as well as "the opportunity to be reached within our community and for us to reach out as well."
Located upon hillsides and along the San Francisco Bay, a Greenbrae address often translates into some of the finest views in the entire Bay Area. Realtor Robert H. Beadle, who has specialized in Greenbrae real estate for more than 35 years, can certainly attest to the importance of Larkspur Chamber membership.
"The Larkspur Chamber has exposed me to other members of my community, which has resulted in more real estate sales, life-time friends, and a feeling of connection to our wonderful little town of Larkspur."
Redwood Industrial
The Greenbrae Boardwalk leads into the Redwood/Industrial neighborhood, an area teeming with retail outlets and warehouses along the route of Marin's original state highway. There's a hidden trinket or gem for everyone within this traditionally industrial hub.
Join the Larkspur Chamber of Commerce
From the ferry docks to the loading docks, from coffee shops to shopping for that must-have gown, and from hair treatments to the outstanding treatment from a premier realtor, Larkspur Chamber of Commerce members benefit from being part of a dynamic organization dedicated to achieving a better and more prosperous community. Find more information on Chamber membership and the membership application here.
Tags: Marin County Real Estate