Bridge Views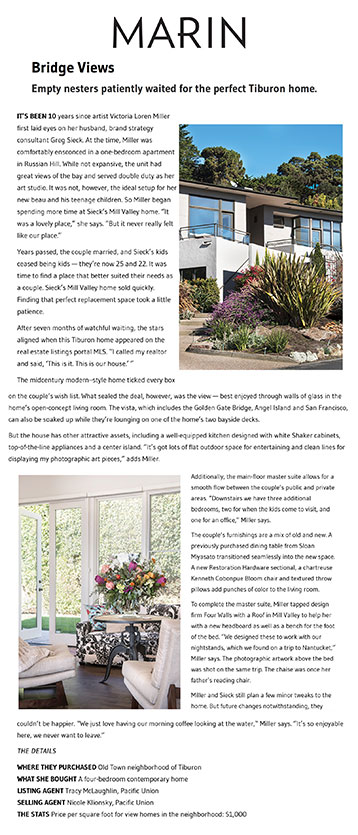 IT'S BEEN 10 years since artist Victoria Loren Miller first laid eyes on her husband, brand strategy consultant Greg Sieck. At the time, Miller was comfortably ensconced in a one-bedroom apartment in Russian Hill. While not expansive, the unit had great views of the bay and served double duty as her art studio. It was not, however, the ideal setup for her new beau and his teenage children. So Miller began spending more time at Sieck's Mill Valley home. "It was a lovely place," she says. "But it never really felt like our place."
Years passed, the couple married, and Sieck's kids ceased being kids — they're now 25 and 22. It was time to find a place that better suited their needs as a couple. Sieck's Mill Valley home sold quickly. Finding that perfect replacement space took a little patience.
After seven months of watchful waiting, the stars aligned when this Tiburon home appeared on the real estate listings portal MLS. "I called my realtor and said, 'This is it. This is our house.' "
The midcentury modern–style home ticked every box on the couple's wish list. What sealed the deal, however, was the view — best enjoyed through walls of glass in the home's open-concept living room. The vista, which includes the Golden Gate Bridge, Angel Island and San Francisco, can also be soaked up while they're lounging on one of the home's two bayside decks.
But the house has other attractive assets, including a well-equipped kitchen designed with white Shaker cabinets, top-of-the-line appliances and a center island. "It's got lots of flat outdoor space for entertaining and clean lines for displaying my photographic art pieces," adds Miller.
Additionally, the main-floor master suite allows for a smooth flow between the couple's public and private areas. "Downstairs we have three additional bedrooms, two for when the kids come to visit, and one for an office," Miller says.
The couple's furnishings are a mix of old and new. A previously purchased dining table from Sloan Miyasato transitioned seamlessly into the new space. A new Restoration Hardware sectional, a chartreuse Kenneth Cobonpue Bloom chair and textured throw pillows add punches of color to the living room.
To complete the master suite, Miller tapped design firm Four Walls with a Roof in Mill Valley to help her with a new headboard as well as a bench for the foot of the bed. "We designed these to work with our nightstands, which we found on a trip to Nantucket," Miller says. The photographic artwork above the bed was shot on the same trip. The chaise was once her father's reading chair.
Miller and Sieck still plan a few minor tweaks to the home. But future changes notwithstanding, they couldn't be happier. "We just love having our morning coffee looking at the water," Miller says. "It's so enjoyable here, we never want to leave."
THE DETAILS
WHERE THEY PURCHASED Old Town neighborhood of Tiburon
WHAT SHE BOUGHT A four-bedroom contemporary home
LISTING AGENT Tracy McLaughlin, Pacific Union
SELLING AGENT Nicole Klionsky, Pacific Union
THE STATS Price per square foot for view homes in the neighborhood: $1,000
BY DAWN MARGOLIS DENBERG
Tags: California Real Estate