A Reimagined Former Spec House in Marin County, California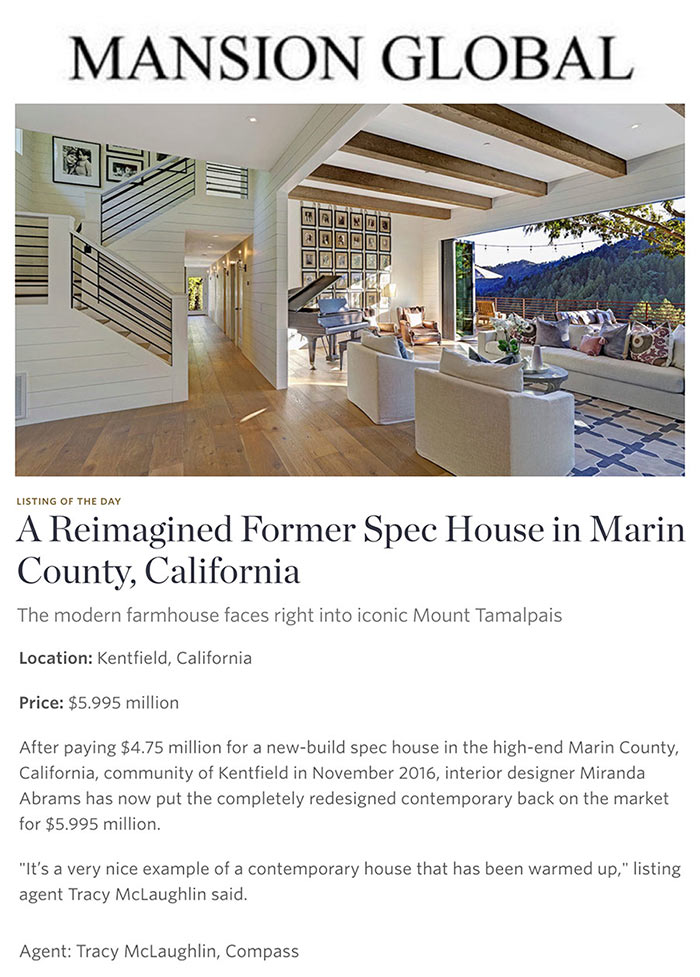 Listing of the Day
Location: Kentfield, California
Price: $5.995 million
After paying $4.75 million for a new-build spec house in the high-end Marin County, California, community of Kentfield in November 2016, interior designer Miranda Abrams has now put the completely redesigned contemporary back on the market for $5.995 million.
"It's a very nice example of a contemporary house that has been warmed up," listing agent Tracy McLaughlin said.
To soften up and add more texture to what had been a very masculine and dark spec house, the owner/designer added rustic beams to the ceilings as well as lots of "Moroccan tiles and wide-plank barn-like boards for the floors," Ms. McLaughlin said. "It's all very modern."
"I wanted to create something that was comfortable, elegant and a little bit casual," Ms. Abrams said. "I was trying to do a modern farmhouse."
"I changed every finish in the house, every piece of hardware—every hinge, every door knob," she said. "Hardware is like jewelry to me—it's so important."
The house has big open walls of glass that face out to Marin County's iconic Mount Tamalpais and is totally private and "dead quiet," Ms. McLaughlin said. "And it's south facing, so you get all-day sun."
"You have direct, dead-on, reach-out-and-touch views of Mount Tam from the house, with no other structures in sight," Ms. McLaughlin said.
"No other houses have this view," she added. "You feel like you're in an alpine community, looking down on all of these pine trees."
Ms. Abrams' favorite part of the house, though, is the kitchen. For this large and open room, she added a new tile backsplash and Quartz countertops and "wrapped the hood in the same material as the floor."
"I love looking out to the outdoor dining and seeing all of the trees," Ms. Abrams said, of the kitchen. "It's like the cockpit of the house."
Along with the kitchen and large living, dining and family rooms, the first floor of the house has three bedrooms, including a large one for guests with glass doors that open to the deck and pool areas, a desk area, and a large closet. The upper-level master suite features high ceilings, custom paneled walls, sweeping Mount Tam views, a large walk-in closet, and glass doors that open to a deck.
Outdoors, Ms. Abrams added a sauna and flat lawn area, redid the pool area and made the exterior deck larger, Ms. McLaughlin said. "It's like a hotel experience up there."
All of the furnishings were custom selected for the house. They are not included, but some could be part of a separate deal, Ms. McLaughlin said.
Stats
The 3,500-square-foot house has four bedrooms, three full bathrooms and one partial bathroom. It sits on a one-acre lot.
Amenities
Along with the pool and spa, amenities include a two-car attached garage and a concrete wine storage bunker tucked underneath the hot tub.
Neighborhood Notes
Downtown Kentfield, which is a "college town and high-end suburb of San Francisco," is a few minutes from the property, Ms. McLaughlin said. "You have a series of great restaurants nearby."
The Woodlands, a high-end market and grocery is also nearby, along with great hiking and biking trails, she said.
"You have direct access to some of the most spectacular well-known hiking trails in Marin County," Ms. McLaughlin said. "It's like living in Aspen or Telluride (Colorado) up there."
More: A Silicon Valley Retreat Where 'Star Trek' Meets 'Star Wars'
Agent: Tracy McLaughlin, Compass
https://www.mansionglobal.com/articles/a-reimagined-former-spec-house-in-marin-county-california-116757
Tags: Marin County Real Estate