A buyer's market in Marin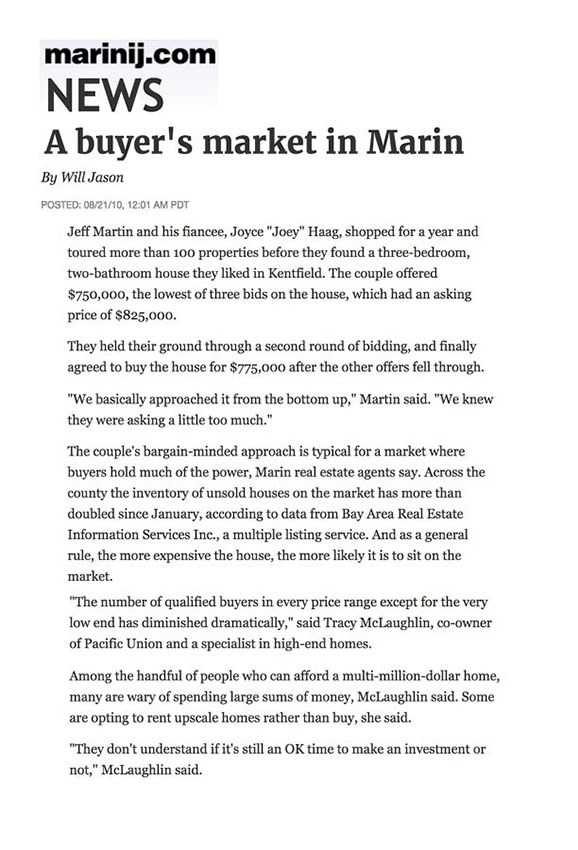 Jeff Martin and his fiancee, Joyce "Joey" Haag, shopped for a year and toured more than 100 properties before they found a three-bedroom, two-bathroom house they liked in Kentfield. The couple offered $750,000, the lowest of three bids on the house, which had an asking price of $825,000.
They held their ground through a second round of bidding, and finally agreed to buy the house for $775,000 after the other offers fell through.
"We basically approached it from the bottom up," Martin said. "We knew they were asking a little too much."
The couple's bargain-minded approach is typical for a market where buyers hold much of the power, Marin real estate agents say. Across the county the inventory of unsold houses on the market has more than doubled since January, according to data from Bay Area Real Estate Information Services Inc., a multiple listing service. And as a general rule, the more expensive the house, the more likely it is to sit on the market.
Belvedere, Marin County's most expensive market with an average home price of nearly $2 million, may be the best example of the trend. Last week there were 48 houses on the market in that city, with just two of those - 4 percent - in contract for a pending sale, according to BAREIS. In a seller's market, that percentage would be at least 30 percent, several agents and brokers said.
"The number of qualified buyers in every price range except for the very low end has diminished dramatically," said Tracy McLaughlin, co-owner of Pacific Union and a specialist in high-end homes.
Among the handful of people who can afford a multi-million-dollar home, many are wary of spending large sums of money, McLaughlin said. Some are opting to rent upscale homes rather than buy, she said.
"They don't understand if it's still an OK time to make an investment or not," McLaughlin said.
That attitude is reflected in the stagnant home sales reported in July. The county recorded just 171 single-family home sales last month, compared with a July average of 235 since 2001, according to the county assessor's office.
But observers cautioned against reading too much into countywide statistics.
"You can't look at Marin as a whole and really understand the health of the Marin market," said Ron Parks, a broker with McGuire Real Estate in Corte Madera.
In some cases, the real estate picture looks vastly different in communities just a short distance apart. In Kentfield, for example, where the median home sold for $1.9 million in the first seven months of the year, 18 percent of homes on the market were under purchase contract last week. A little over two miles away in Greenbrae, the figure is 37 percent, more than double the absorption rate.
The reason, Parks said, is that while the two communities share the desirable Kentfield School District, Greenbrae's homes cost about half as much, with a median price of about $1 million.
"You don't pay the Kentfield price but you get the same school district," Parks said.
Farther north, where homes are less expensive, demand appears to be picking up. In Novato, 90 of 267 homes on the market were under contract last week, a rate of about 34 percent.
In that city, one of the earliest and hardest hit by the real estate decline that began in 2005, prices have inched higher. The median single-family house there sold for $495,000 in the first seven months of 2010, up from $450,000 for the same period of 2009.
"The lower price points continue to be where a lot of the activity is," said Kathleen Freitag, a broker associate with Frank Howard Allen in Novato.
Marie Glogoza is a San Francisco resident who is looking to move to Marin County with her husband and daughter. The family chose Novato because of its prices, she said.
"You can get a lot of square footage for your dollar," Glogoza said.
Finding a house has proven challenging, Glogoza said, because many of the houses for sale are in some stage of the foreclosure process, which entails waits of many months - more than a year in some cases - to close a sale. That means houses that are owned free and clear are in high demand.
"It looks like the properties that are truly available for sale, they are turning around in two to three months," Glogoza said.
Demand for lower-priced, single-family houses has also been fueled by new federal lending rules that make it more difficult to buy a condominium.
"They put borrowers through the ringer," said Sean Maley, a loan consultant at Guarantee Mortgage in San Rafael.
Strict lending rules have contributed to a drop in condo sales, which fell 20 percent year-over-year in July, said Matt MacPhee, an agent with Frank Howard Allen in San Rafael.
"You'll see these units sit on the market longer because the approval takes longer," MacPhee said.
Those who do qualify for a mortgage can take advantage of an historically low rate, which dipped to 4.42 percent last week for the average 30-year fixed loan.
Back in Kentfield, Jeff Martin said the low mortgage rate helped him and his fiancee stretch their dollars further than they expected. It is part of the silver lining of a slower real estate market, which is that it becomes possible to buy houses once thought to be out of reach.
"We really didn't expect to find anything in that part of the county," Martin said. "Finding a home in the Kentfield-Ross area was just like winning the lottery."
Tags: Economy Bay Area Real Estate Marin County Real Estate