REAL Trends/The Wall Street Journal Names Tracy McLaughlin the Number 51 Agent in the Country!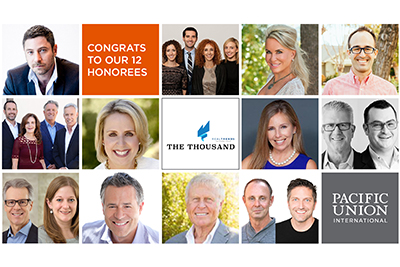 Twelve real estate professionals and teams at Pacific Union International have been ranked among the most productive in the United States, a testament to the firm's commitment to recruiting and retaining California's top real estate performers.
REAL Trends' annual The Thousand list, compiled in partnership with The Wall Street Journal, ranks the top 250 real estate professionals and teams in the nation by 2017 sales volume. This year's honorees, along with the rest of Pacific Union's real estate professionals, strengthened the top independent California brokerage's position as the fifth-largest residential real estate brokerage in the U.S. earlier this year, with 2017 sales volume of $14.1 billion.
"We are humbled by the extraordinary results of our top professionals," Pacific Union CEO Mark A. McLaughlin says. "We honor their accomplishments and appreciate their continued commitment to our core values of teamwork, trust, and innovation. While we honor these amazing teams and individuals today, I believe our entire organization and our united culture throughout the San Francisco Bay Area and Los Angeles are our most significant assets."
This year's honorees are:
Individuals by Sales Volume:
Aaron Kirman, Beverly Hills, ranked No. 5 with $426 million in sales
Dana Green, Lafayette, ranked No. 31 with $199 million in sales
Tracy McLaughlin, Ross, ranked No. 51 with $155 million in sales
Shana Rohde-Lynch, Belvedere-Tiburon, ranked No. 86 with $124 million in sales
Craig Strong, Toluca Lake, ranked No. 159 with $94 million in sales
Raziel Ungar, Burlingame, ranked No. 218 with $81 million in sales
Peter Bergman, Marina del Rey, ranked No. 246 with $76 million in sales
Teams by Sales Volume:
Nina Hatvany, San Francisco, ranked No. 56 with $226 million in sales
Pence Hathorn Silver, Santa Monica, ranked No. 97 with $186 million in sales
Smith & Berg Partners, Brentwood, ranked No. 123 with $171 million in sales
LeMieux Associates, Menlo Park, ranked No. 185 with $142 million in sales
Watson-Marshall Group, Burlingame, ranked No. 245 with $124 million in sales
Tags: About Tracy McLaughlin