Real Estate Rescue: Now More Than Ever
Dear valued clients, friends and my wonderful family,

While this period is without precedent, I feel the resilience of so many around me. Our community seems to be unanimous in the "something positive will come out of this" perspective, which is a true blessing and says so much about where we live and who we are. I decided to include this meaningful post that I thought summed it all up.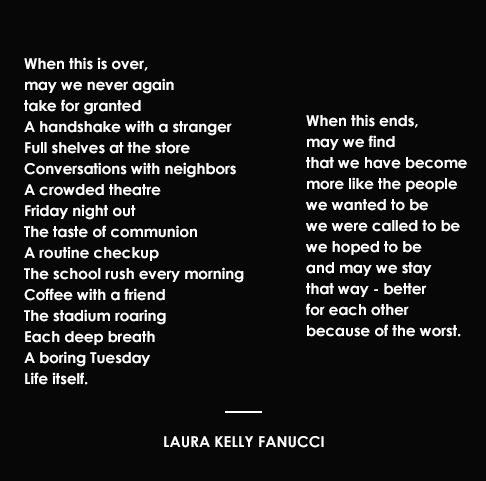 Tracy's Real Estate Update
On a real estate front, I have spent the past weeks fielding nonstop calls on where real estate is in all of this. Here are my thoughts based on what I know and am prognosticating based on prior cycles like this.

1. We went into this health crisis with very strong fundamentals in the economy. Interest rates continue to hover close to an all time low. For example, a 30 year fixed is currently in the mid 3 percent range with zero points. A 10 year fixed is in the 3 percent range with zero points per www.mortgagenewsdaily.com. Unemployment was also at an all time low. When the health crisis is behind us, we anticipate unemployment numbers to decrease.

2. Our inventory in Marin County has been historically low (especially in the more desirable neighborhoods in the premium school districts) and continues to remain very low. Supply and demand has always been the dominant determinant in our industry, and will be the largest contributor to increased transactional volume once this is behind us.

3. If your home was being prepared and/or is ready to go on the market, and the "pause" button has been hit, here are my recommendations: Take this time to thoroughly prepare for your home's sale. Get your list of what pre-listing inspections are still needed if applicable. Catalogue all of the touch up paint and "odds and ends" projects that need to be completed so that you are ready to go once work is allowed to commence. Make the house look as perfect as possible because in this market, "magazine worthy" sells for a premium! Contact stagers and get a plan in place so they will be ready to stage your property, and get photos done, as soon as the Shelter In Place order is lifted. Please do not leave any stone unturned in your prep of the home. It matters. It's why I wrote the book, "Real Estate Rescue." PREORDER HERE!

4. If your home was just about to go on the market, keep the staging in, and the updating you did to sell it in perfect shape, and wait this out. Do not remove your staging and undo the investment you have made already only to have to redo it next month or even in a year, as it will cost you. If supply remains very low, and city dwellers want fresh air/a very safe and healthy environment, Marin will likely be very appealing for many city residents who had not previously considered living in Marin.

5. Buyers: If you are looking for a home to purchase, buy the home that speaks to you and don't "wait for a deal." Great homes in A1 locations are never deals in Marin, and timing the market never really works. "A broken clock is only right twice" (quote from the book). Buy a good investment location with many of the features I outline in "Real Estate Rescue" that create future demand for your asset. Don't buy deals because they are deals, as even if there is some softening in the residential markets, those homes will never appreciate the way an A1 location home would have.

6. I conducted a phone tree with all title companies in Marin to do a round up of new escrows and to see if escrows are being cancelled as a result of these current restrictions. The good news is that the new escrows far outweigh the latter and people are moving forward with purchases. Our office ratified an offer on a $7.5M listing this past week.

I am keeping everyone in my thoughts and wish you all the very best for health and happiness in the upcoming weeks. I am here to answer any questions that you may have about the market or your home.