How To Support California Wildfire Victims This Holiday Season and Beyond!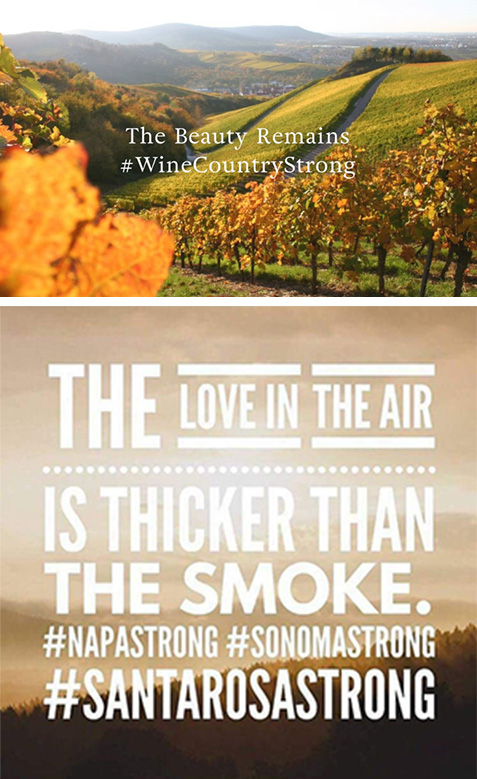 In October, residents of a number of Northern California counties battled some of the most destructive wildfires in California history. And sadly, in early December, another series of enormous wildfires broke out in Ventura, Santa Barbara, San Diego and Los Angeles counties, of which the Thomas Fire continues to burn and threatens to become the largest blaze in state history.
So many of our neighbors and fellow Californians have lost so much and if you'd like to support their efforts to rebuild and recover, we have listed a few ways to do so below. In addition to helping those immediately affected by the fires through donations and volunteer efforts, we have also included ways in which you can support the local economies the affected areas depend on.
Northern California:
- Wine Country Strong: Wine Country Strong's mission is to provide the affected communities with monetary relief: https://www.winecountrystrong.org
- Rebuild Wine Country: In partnership with Habitat for Humanity of Sonoma County to rebuild homes in Sonoma, Napa, Solano, Lake and Mendocino Counties: https://www.rebuildwinecountry.org
- North Bay Fire Relief: Redwood Credit Union Community Fund, Inc., in partnership with Redwood Credit Union (RCU), The Press Democrat, and Senator Mike McGuire, is accepting financial donations to assist fire victims and aid relief efforts. 100% of the tax-deductible donations will go directly to support those affected.
- Wines That Are Giving Back: To purchase wines that are giving back, here are some from wineries supporting fire relief efforts and these wines will also make excellent choices for all manner of holiday tables: https://www.today.com/food/wines-buy-help-california-fire-relief-efforts-t118764
- Shop Local, 10 Iconic Sonoma Foods: Sonoma County is renowned for so many incredible food items, many of which will make any holiday meal that more memorable while supporting the local economy which needs it so much: http://www.sonomamag.com/iconic-sonoma-foods/
Southern California:
- Thomas Fire Fund: 100% of proceeds goes directly to the fund. United Way of Ventura County, United Way of Santa Barbara County, the American Red Cross of Ventura County and the Ventura County Sheriff's office of Emergency Services have formed a strategic partnership that will be vital in helping the community recovery. http://vcunitedway.org
- Humane Society of Ventura County: More than 100 animals are being housed at the Humane Society location. They're in need of alfalfa hay, Timothy hay, cat food, rabbit food, flashlights, headlamps, lanterns, water troughs, bottled water, fruit, snacks, hoses and power generators, as well as snacks for their volunteers. https://humanesocietyvc.nationbuilder.com
- California Thoroughbred Horsemen's Foundation: The California Thoroughbred Horsemen's Foundation has set up this website to accept donations to help people and horses affected by the Southern California fire that destroyed much of the San Luis Rey training center: http://cthfcares.org
- Thomas Fire Pop Up: This is a temporary pop up "store" created by donations from community members for the victims of the Thomas Fire. It is 100% free for survivors.
Tags: Marin County Nature and Community Economy California Real Estate