5 Romantic Day Hikes in the Bay Area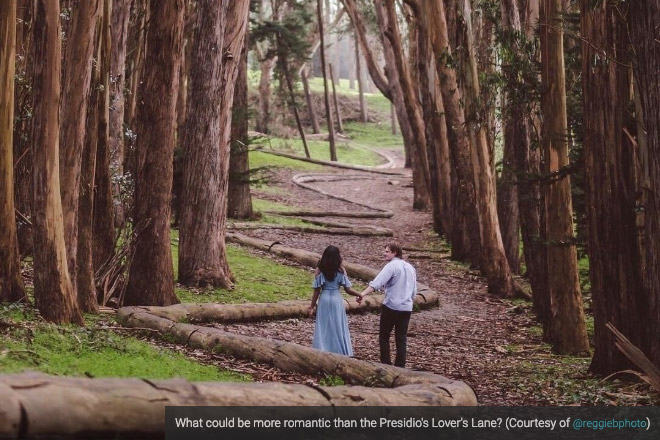 Listen up, die-hard romantics and nature lovers.
The Bay Area is full of sweet spots for amour, but to our minds, nothing is more romantic than a long, hand-in-hand walk down a winding trail to a secluded beach (especially when someone's packin' some bubbly). Here are our most beloved Bay Area treks for lovebirds.
Sunset Hike to Mile Rock Beach
This mysterious little beach is tucked in along the Land's End Coastal Trail, making it the perfect destination for a secluded picnic or a mid-hike break. Located 100 or so steps down from the main trail, this rugged beach will make you feel like you've traveled back in time. There are a lot of logs and different places to sit down, so unpack your favorite drinks and snacks and take in the views. Learn more.
Insider's tip: There's a narrow trail that takes you up to a lookout above the beach. If you decide to explore up there, you'll be rewarded with the area's famous labyrinth and amazing views of Baker Beach and the Golden Gate Bridge.
If your idea of a perfect evening includes a blanket, some wine, amazing company, and being surrounded by golden coastline views, then put this hike at the top of your list. Located less than an hour from San Francisco, this easy 1.2-mile loop is a great way to enjoy a sunset on a clear fall evening. Be sure to pack your camera, because the views will not disappoint. Learn more.
Insider's tip: Check the weather forecast and be sure to pack some warm clothes. If you're hungry afterwards, plan on grabbing a bite at the Mountain Home Inn.
Explore the Presidio's Hidden Treasures
Grab your loved one and take a stroll through this beautiful oasis of light-filled forests, art installations, beaches, and sweeping views. An especially popular spot for engagements and wedding photos, this easy 2-mile hike will take you past some of the Presidio's most amazing little gems including Lover's Lane, Andy Goldsworthy's Wood Line. and the Inspiration Point Overlook. Learn more.
A Beautiful Hike to Abbotts Lagoon
This romantic day trip offers you the best of Point Reyes, all packed into an easy 2.3-mile hike. Pick up your picnic supplies in Point Reyes Station, and then head for Abbott's Lagoon Trail. You'll meander through wildflowers, headlands, scenic landscapes, tons of wildlife, and eventually find yourself on a seemingly endless beach. It's a perfect spot for a secluded picnic and a nice walk along the water. Learn more.
Insider's tip: Be sure to check the weather forecast. Sunny days here are glorious, but cloudy days (although still beautiful) can be very cold and windy. Pack accordingly.
Batteries to Bluffs
Most locals consider the Batteries to Bluffs trail to be San Francisco's finest. It covers everything that you're looking for in a romantic hike: a scenic trail overlooking the ocean, gorgeous views of the Golden Gate Bridge, a secluded beach for a picnic, and it's easy enough that you won't be a sweaty mess. Learn more.
Insider's tip: When you get down to the beach, walk north to find more seclusion and to capture the perfect shot of the Golden Gate Bridge. This is also a dog-friendly trail.
Tags: Marin County Nature and Community