"In Their Own Words:" Tracy McLaughlin
The Luxury Marketing Council of San Francisco
Presents..

"In Their Own Words"
Tracy McLaughlin
While the more affluent and urbanized towns of the Bay Area's Marin County exude an aura that combines restrained progressivism, a cultish obeisance to yoga and Pilates, and not to mention, a commitment to environmentalism that results in the ubiquity of Teslas on Highway 101, the real estate community knows that the reality behind the scrim is of a different order – a cutthroat playing field, made more so by the COVID-driven exodus of City-dwellers to the North, where alpha agents compete for home sellers, a breed notorious for its knowledge about real estate matters, and infidelity, when applied to business relationships, particularly those involving the purchase or sale of multi-million dollar properties. Into this mélange of opportunity, bare-fisted competition and thinly-concealed risk steps Tracy McLaughlin, with an up-by-the-bootstraps approach that has seen her consistently maintain #1 top producer status within Marin County since 2005. To paraphrase John Turturro in the cult classic The Big Lebowski, "Nobody messes with the Tracy!"
The Score Card
Early history of flipping homes before becoming a licensed agent. Has renovated over 600 homes for clients to prep for sale. Has personally flipped over 30 homes for her own portfolio
In 2006, in partnership with then husband Mark, co-founded boutique brokerage, Morgan Lane Real Estate
In 2009, purchased Pacific Union International, which sold to Compass in 2019
In subsequent years, has partnered with The Agency
Ranked within the Top 15 on the Leading 100 List of Bay Area Top Producers every year since its inception in 2016
In 2022, ranked number 24 in the U.S. out of 2 million agents by Real Trends and Wall Street Journal
$416,585,000 in closed sales volume in 2021
Leads a staff of 5 spread between two offices in Marin County and Aspen
In 2020, authored and published "Real Estate Rescue", with a new book in progress "I Bought a House and Ruined My Life, (Or Almost Did)" due for publication by the end of 2023
On the early beginnings
I was born in San Francisco and raised in Marin County, with working parents and a brother who is now a content creator in Los Angeles. My former marriage to Mark Mclaughlin delivered three incredible and much-loved children, daughters Whitney and Grace, who have followed me into the real estate business, and a son Ross who has braved the hi-tech world. After graduating from UC Berkeley, I studied broadcast journalism at Stanford which led to an 8-year career as an anchor and reporter with various NBC affiliates in the region. I was the producer and on-air host for a magazine-format show on international travel and skiing. Due to the "dare devil" nature of this show, and being pregnant with our first child, I pivoted to development of single-family homes in Marin and got a real estate license.
On what separates her from the herd
I can walk into homes and immediately see how to make them more valuable, without completely gutting and tearing them apart. That's what initially got me interested in real estate. On top of that, it's fun. For me, it's not just about the commission, it's also about the satisfaction of maximizing the return on my clients' investment. It's empowering to have them trust you enough to invest their money with you. Ultimately, I view real estate as money management, not sales -- managing a client's biggest asset. For instance, I recently made one client approximately one million dollars on a $350,000 investment to fix up the house in order to sell.
I'm a firm believer in honing your craft, getting down into the trenches and understanding the very nature of buildings. For example, if a wall needs to come out and requires a soffit, it's going to cost $100,000, versus $20,000 for one that doesn't need. The key lies in understanding buildings and homes -- how they should be repurposed for today's lifestyle, to judiciously decide where to start and stop, and then how to wrap all that into an effective marketing and sales strategy without overpricing the house. Very few Realtors come from the background of repurposing, redesigning and rebuilding homes. I do. I understand why something doesn't sell because I'm constantly flipping houses on my own behalf. I've lost money or flatlined on a few, but made sizable profits on the vast majority of them.
On where the industry fails the client and how to avoid that failure
Without doubt, most agents are leaving money on the table. People make the most arbitrary decisions on representation. I watch them hire an inexperienced agent because they have a familial relationship with that agent, or they feel some sense of unrelated obligation. Yet, if they had just inherited a million dollars and wanted to invest it wisely, they wouldn't employ a fly-by-night money manager. They'd hire an experienced, credentialed wealth advisor. The real estate business lacks that same checks and balances filter, because we are under-qualified as an industry to manage client money. If you're 18 years of age and have attended an online real estate school, you have the sudden power to walk into somebody's home, which could be worth multi-million dollars, and advise the owner on how to sell it. With all due respect, advising a seller on how to monetize a home for the highest price demands a refined skill set that takes years of experience to develop.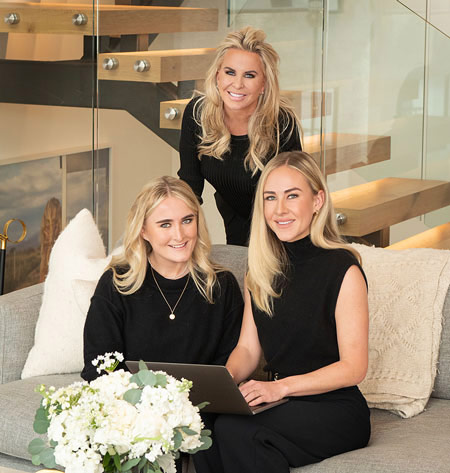 Following in their mother's footsteps, daughters Whitney McLaughlin (R) and Grace McLaughlin (L) have partnered in the establishment of the Aspen office
On The 4 Ps
Let's start with preparation of the home. Making the house look like a magazine cover shot -- that's our job. I don't care how small the marketing budget, you can always find an affordable way to paint the walls, edit down and stage the home. Sellers look at the complexity and cost of replacing simple things like lighting, paint, colors, carpet, hardwood flooring, and they roll over and undersell the home. My best advice is budget every year with the expectation of a subsequent sale of your home, borrow the money from your agent (ha ha) or take out a HELOC to fund the prep. I promise that the investment will be returned many times over.
You can make a beautiful home perfect, but if you grossly overprice it, it's simply going to undersell. By now, we all understand the dynamics of appropriate pricing.
You have to understand psychology, be a quick reader of people, their egos, what matters to them, when to stop talking. You've got to gain their trust. I had great clients who didn't list their home with me. When I asked why, the wife said, "I felt that every time you addressed me and my husband, you were talking to my husband and looking right through me". I have never forgotten that. Now, every time I have an appointment, I make sure I'm spending as much time focused eye-to-eye on the wife as I am the husband. And vice versa.
Presentation is dynamic marketing. Due to our attachment to our devices, it seems that everyone today has some form of ADD, so we need to learn from Tik Tok and how they made their content quick, fun and informative (sometimes). Today's presentation needs to start with stunning photography, making rooms looking as spacious as possible, with "money shots" to begin with, segueing quickly to video content that needs to be under 25 seconds, not the traditional 3-minute travelogue. Tell me about living in this house or tell me a story about this house. That's presentation. Don't tell me about the appliances. That doesn't matter. The untold story is how we tell the story in video.
On the mantra to live by
There are a handful of principles that guide my business practices. 1. Learn and understand architecture and finishes. 2. Always tell the truth. 3. Defend one's value. In other words, don't cut the commission. 4. Don't be afraid to say "no" to somebody that you don't want to do business with, particularly unrealistic sellers. And, 5. Don't sell a home that you would not sell to your own family members.
I can't tell you how many times I've said, "These buyers are really dragging their feet. I have shown them 30 homes. When will they ever buy a home, or do they even want to buy a home?" I could steer them into something they like, that I knew wasn't a good investment, but at the end of the day, those people are going to remain loyal and use me when it's time to sell that house. So, to sock somebody with a bad investment because you're burned out working with them is morally wrong. My business model is to have no business rather than bad business or sell something I don't believe in.
Rarely do I negotiate the commission. In fact, I usually diffuse it right from the start by explaining the value of what I'm bringing to the relationship and the transaction. The commission structure is purposefully absent from my evaluation/marketing proposal. For me, it's problematic when our colleagues cut commissions. They are undervaluing the enormity and complexity of what we do for a living, because we're the impenetrable wall of defense against litigiousness arising out of disclosure issues and the complex conflicts involving contractual breach. Ultimately, that's what we're delivering – protection, and that's worth an extra percent or two.
On the perfect client
Let me give you a recent example. He did not meddle or second-guess any decision that I made on his behalf. He trusted me when it came to an off-market offer of $7 million just as we were launching. He didn't say, "I bet I could get more". He wasn't greedy. He was reasonable. He looked at the data, saw that it was at the higher end of what he could expect to get, and said, "let's go ahead". That's not what sellers traditionally do. They don't trust their agents, they second guess, they renegotiate and they lose. You can sum it up in one word – trust.
I concentrate almost elusively on the single-family domiciles, but I put as much time, energy, and attention into a $700,000 condo as I do a $20 million sale. It's not only about the commission, it's about the relationship, gaining trust, making my client's lives better and honestly, making a difference and feeling you are contributing. We are not in the business of sales. We are in the business of relationships. Having said that, the bulk of our business is in the $3 to $9 million price range. Obviously, Marin is our major area of concentration, and Aspen has become an important expansion market as well. I have people who want me to list their homes in San Francisco, but in that case, I sometimes partner with a City agent because I believe people deserve representation by an agent with local expertise.
On sourcing clients
I ran a consistent ad campaign in Marin for nine years, so people know me and call me. I also generate a lot of social media outreach, teaching people the tricks of the trade that I've learned over time. As a result, I'm now getting calls saying, "I'm not selling my house, but would you please consult with me? We are considering a multimillion-dollar renovation, and we don't want to make a mistake. We promise we'll use you when we go to sell". Interestingly, architects and designers build and design beautiful things, but they don't necessarily know how to design for resale. Windows are in the wrong locations. You can't get an L-sectional in the space. So, I provide free consultation on social media, and it's working. It helps establish that important reputation for honesty, trust and hands-on experience for substantiation as an "expert" in a field.
On expanding the business
I fell in love with Aspen 10 years ago when I started visiting there. Then I bought an investment property and was able to make $2 million in four months. So, I thought, this is a good flip market. After that, I soon fell in love with the community. It's akin to taking take the best components of New York City and dropping them into a Switzerland-like experience. I built a family home there, and luckily, my daughters have fallen in love with living there as well. They like the real estate business a lot and are now my partners there. There is also massive opportunity. There are a number of agents who have built long-term businesses and are very professional at what they do, but they're the minority.
On motivation. Where does it come from?
I have a fear of running out of money. It sounds ridiculous, but beginning at age 10, if I wanted something, I had to get a job and earn it. And I've watched people's lives turn on a dime, where they seem very comfortable and all of a sudden something catastrophic happens. I like the reassurance of knowing that that will never happen to me. I always tell people that on Jan 1st, every year, we are neutralized as agents, with no rankings. We start back up Everest to try to make it to the top again. That takes immense motivation.
Clients called me on December 10th. They had found a house that they were extremely interested in, but they had to sell their existing home first. Let me add that theirs was a difficult home to sell because of its location and layout, and a nightmare to show. But we got it sold quickly and had to immediately begin negotiating for the new home, which was not inexpensive. There were two offers. The competing offer was all cash and no contingencies. Ours was not. The listing agent and the executor of the estate agreed to meet with me on Christmas Eve. I brought in baked goods. I pulled out every tool in my arsenal…and more, and we ended up getting the house. To this day, I still believe that we should not have won that house. The other buyer was far stronger. But I begged, pleaded, charmed, cajoled, did whatever I had to do to get the home. It ended up as a personality choice on the part of the seller. The point is sometimes you win by going that extra mile.
On life's challenges and opportunities
The death of our second child, a beautiful little girl, was devastating. She had to be taken off life support after a short period of time. Not surprisingly, it was one of the biggest lessons of my life, and at a young age, because I realized that nothing else in life actually mattered after that happened to me/us. I share this most personal and private information because people complain about everything nowadays, and unless you or your loved ones have a terminal disease, everything else is trivial, by comparison.
The biggest mistake I've ever made involved the sale of a $20 million home. I was on the buy side. Very important San Francisco client. I had an administrative assistant who was responsible for reviewing every contract. The home had a sound studio with approximately $80,000 worth of electronics, so we asked for all of that equipment to be included in the purchase price. That specific item was omitted by mistake from the final contract by my assistant, and the seller's agent reneged on the agreement. I wrote a check for $80,000 to rectify the error. We all know that mistakes happen, particularly when you have multiple transactions in process, but I always say to my staff, I don't care who did what, the agent always writes the check. End of story!

---

This in-depth interview series features industry notables and trend setters who are redefining the business. The interviews are conducted by Alf Nucifora, Chairman, LuxeSF. To read previous interviews in our series, click HERE
LuxeSF, a business organization of CEOs and senior sales and marketing practitioners, is considered the Bay Area leader in the rapidly-growing arena of luxury marketing and the "Gold Standard" for the intelligent exploration of best marketing practices and trends in the luxury marketplace. To learn more, visit www.luxesf.com